Digital Marketing for Physicians
The most successful medical practices are those who consistently attract new patients while retaining their current patients. In the past, word of mouth advertising and traditional advertising methods have contributed to physician success. But, in order to grow your medical practice today, you'll need to take a different approach. Putting together professional medical marketing strategies for physicians or medical clinics can be a daunting task. There are an endless amount of marketing strategy options, and the information provided by "experts" is often contradictory and vague, at best. When a physician desperately needs more patients for his or her practice to stay afloat, the last thing you want to do is make the wrong decision in terms of medical marketing strategy.
When a potential patient is looking for the services that your practice offers, is your practice the one that they choose? Can they even find you, as a physician, online?
If you're looking to promote your practice, then you need professional physician marketing services from an
award-winning healthcare marketing agency
, like Digital Logic.
Get Help From the Best Physician Marketing Agency
Many physicians and healthcare practice owners consider hiring a medical marketing agency to be an expense. But, this really isn't the correct way to look at digital marketing services that are offered by a reputable digital marketing agency.
When you invest in physician marketing, you're doing just that-making an investment. If you choose to invest in Google ads or social media ads, then you're making a short-term investment. And, if you choose to invest in search engine optimization services, then you're making a long term investment. It truly is that simple.
At Digital Logic, our medical marketing professionals provide a completely customized online marketing strategy that is targeted to reach local searchers who are in need of the medical services that your practice offers, convert those searchers into patient leads, those leads into paying patients, and those patients into lifetime brand representatives.
Our digital marketing efforts have helped countless medical practices across the United States realize their potential and grow more than they thought they could!
Why Physicians Need a Medical Marketing Strategy
When the appointment books are full, it's easy to get complacent. But, we've come out of the COVID-19 rush, and things appear to be settling down. And, when the dust settles, where does that leave your medical practice?
The healthcare industry changes rapidly. The demographics can shift, and new competition appears constantly. If your competitors are using advanced medical marketing strategies, then it won't be long before they've captured your "part of the market".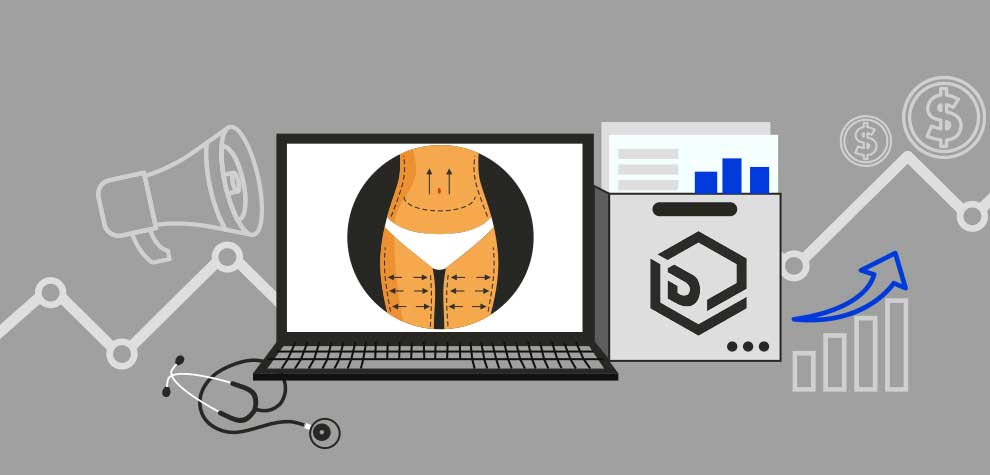 Plastic surgery marketing refers to the marketing strategies plastic and cosmetic surgery providers, and practices use to attract new patients and increase awareness of their
Read More »
Orthopedic marketing refers to the marketing strategies orthopedic surgeons and orthopedic providers, and practices use to attract new patients and increase awareness of their orthopedic
Read More »
Working with Digital Logic was the best marketing move I've ever made for my practice. They have helped me continually stay booked with the right kind of patients with their strategic approach to drive more traffic to our website.
Over 80% of patients will look up a healthcare provider online before determining whether or not they can trust the physician. So, having an established online reputation is critical to the success of a medical practice. If you are the medical practice's marketing strategist, you can help your practice growth by investing in digital physician marketing strategies.
Having a dynamic digital marketing strategy is the most cost effective way to attract new patients online.
But, simply taking a scattered approach won't cut it. You'll need to either have a laser-focused and educated approach or partner with a professional physician marketing agency with a reputation for success.
Unlike traditional healthcare marketing strategies, physician marketing services focus on the patient's needs. This online marketing strategy will increase online visibility of physicians, improve the practice's brand recognition, and elevate the business as a pillar in the local medical community.
Many online physician marketing strategies will open the door for more networking opportunities for both the physician and the medical practice, since increased brand recognition can lead to outside events and potential guest posts.
Better brand recognition can also lead to more patient referrals.
Most importantly, a successful digital marketing strategy can help position the physician as a local industry leader, both online and in person.
What Makes Digital Logic's Approach to Physician Marketing Different?
When it comes to physician marketing or medical marketing services, online advertising agencies will do just about anything to convince a desperate medical professional that they're qualified for the job. To be blunt, all they see is dollar signs.
But, marketing inside of a healthcare network poses a ton of hurdles that only an established marketing agency with experience and adequate funding can navigate. Healthcare marketing, in general, is exponentially more difficult, due to HIPAA requirements, the ever-changing medical landscape, and constant changes in how treatments are provided. If a marketing agency posts incorrect information on behalf of their physician client, and this information injures another person, there can be legal ramifications. Regardless of the medical specialty, any healthcare professional must partner with a trustworthy marketing agency in order to be successful.
No Long Term Marketing Contracts
Many other medical marketing agencies will make physicians sign super long term contracts before they offer marketing services. At Digital Logic, we don't believe in tying any client to an extremely long contract. We do a lot of the heavy lifting upfront, so there must be at least a year-long agreement. Even so, we are compassionate individuals, and if our client can no longer afford our services, we'll do our best to work with them.
Here, we get our leads from our current clients and organic marketing-after all, you're here aren't you? Our digital marketing services are exceptional, so our clients really don't ever want to leave.
Other physician marketing agencies will take over website ownership, once a client decides that they no longer want to use the agency's services. We find this to be a terrible business practice. It's unfair, and it's wrong. Here, we call this the "website hostage situation" (and, sadly this happens so frequently that we've termed the action).
When an online advertising agency provides professional marketing services that work, they don't have to take such drastic measures to "keep" clients. So, when our website developers at Digital Logic create or redesign your website, unless you choose not to pay for those services that were agreed upon upfront, then you own your website.
And, if the time does ever come where you choose to part ways with us, we'll do our best to ensure that the process goes as smoothly as possible. We can continue to host your site at the going market rate or we can release the website to you so that you can host it elsewhere.
Experienced, Dedicated Account Manager
The healthcare industry is competitive. In order to compete with other physicians in your area, you'll need someone with extensive medical marketing experience.
At Digital Logic, we provide all of our clients with experienced and dedicated account managers. All of our account managers are Google Certified. Digital Logic is a Google Premier Partner, so all of our online marketing efforts fall within Google's best practices. This ensures that your website won't be a target for black-hat techniques or off label marketing campaigns.
Our account managers at Digital Logic are expected to ensure their client's practice growth by compiling valuable resources, conducting location and industry specific keyword research, targeting qualified patient leads, and creating well-crafted SEO-friendly content to convert leads into patients. This ensures more physician referrals and higher patient volume long term.
Online Reputation Management
81% of potential patients look at a physician's patient reviews before scheduling an appointment. Even if referring physicians sent the patient, he or she will still look at online reviews before moving forward with the appointment. So, physicians can no longer bank on having an internal network of physician referral marketing to float the business. More patients are choosing to visit an alternate referral now more than ever. To say that your online reputation is critical to the success of your medical practice is severely undervaluing the impact.
Online reviews are the first step towards finding a preferred physical for 72%.

48% of people would visit a physician who was out of network if he or she had better patient reviews than one inside their network.

94% of people evaluate a physician overall by looking at his or her online reviews.
While every medical practice would love to only have shining, 5 star reviews, this can't always happen. At Digital Logic, we monitor your online reputation. We're proactive in our attempts to secure positive reviews, so when a bad review does come, it's overshadowed by the sheer number of positive ones.
For example, if your practice has 10 positive reviews and 1 negative review, potential patients may see this as a warning sign. But, if your practice has 50 positive reviews and 1 negative review, then the patient leaving the negative comment just looks more like a jerk, instead of a patient who wasn't properly taken care of.
Due to HIPAA laws, it's better for physicians to connect with disgruntled patients privately. There really isn't a professional way to argue your case without divulging privileged information, so being proactive with online reputation management is a key part of showing your brand in the most positive light possible.
Medical Marketing Strategies
If you want to consistently reach new patients online, then the fastest way to do so is by investing in online search advertising, also termed Google search advertising, search engine advertising or PPC advertising.
An investment in Google ads, specifically PPC ads, offers physicians several advantages. Unlike traditional advertising, you only pay when a qualified lead clicks on your ad. This is why the service is known as "pay per click". Google offers much better targeting parameters. This means that your ads will only show within the specified geographical area, during specific time frames, and your ads will stay within your selected budget.
Many established doctors and new physicians alike understand the importance of paid advertising to gain more traffic. So, the landscape here is competitive. If you want to take full advantage of Google advertising, you'll need to partner with an experienced PPC management firm.
With Google advertising, your practice is able to quickly reap the benefits of your investment. Our PPC managers are able to put together ad campaigns quickly because we have the necessary experience to do so. We can turn campaigns on and off as needed and provide our clients with real-time data.
When you partner with Digital Logic for physician PPC services, you will see an increased ROI. We ensure this by targeting only the best prospective patients, creating custom landing pages for each ad group, and ensuring that the calls to action are enticing! We work with physicians to determine which services will bring in the best quality traffic and most revenue. We'll also note which services your clinic prefers not to publicly offer.
This means that doctors are spending time providing the services that matter to them, instead of providing the services that they dread. Happy physician. Happy workplace.
Search Engine Optimization for Physicians
Healthcare professionals understand healthcare industry-specific language. And, similarly, there's an entire world of marketing jargon. Search engine optimization, or SEO, is the process of creating high quality content using relevant keywords with a high likelihood of conversion, as well as employing specific coding to rank a specific website higher on search engines, like Google or Bing. This process increases the number of potential patients that come to your site.
A successful SEO strategy increases organic traffic. This traffic is essentially free and tends to compound exponentially over time.
Websites typically do not age well. Actually, nothing in the medical field ages well. Well, except for plastic surgeons (we kid). Your website should be your number one sales and marketing tool. It should exude professionalism and confidence in your abilities as a medical professional.
If you don't have a website or if your site hasn't been updated in a few years (3 or 4), then it's time for a new website or website redesign. Patients want to see that their doctor stays on trend with the newest medical technology, and when a website looks old or outdated, this creates the illusion that the doctor or doctors on staff are also outdated.
Creating content can only take you so far. In order for any online medical marketing strategies to work correctly, the foundation must be right. What we mean is that the medical website should be built following the SEO best practices.
If your medical website isn't up to date, doesn't have a fast loading time, isn't mobile friendly, or wasn't built using the correct website structure, then you are actively losing visibility on search engines. This means you're losing business.
Having a solid site foundation will help your medical content get found, indexed, and ranked on search engines faster.
Potential patients should feel a sense of ease when they visit your website. In order to make this happen, you'll need to have a user-friendly, easy to navigate website. This keeps your website visitors engaged longer, which lowers your bounce rate and increases the chance of conversion. The more this happens, the more this proves to Google or other search engines that you are the authority when it comes to doctors!
Everyone has a smartphone, and everyone uses their mobile device to look up answers online. Doctors across the world use mobile devices to share information, so why wouldn't your prospective patients do the same?
Put simply, if your website isn't mobile friendly, then you're losing business.
Additionally, Google incentives websites that are responsive, or optimized for mobile devices. With how competitive the medical industry is, you can bet that all of your local competitors have a mobile friendly physician website.