Orthopedic Marketing Agency
When practicing in a competitive healthcare field, such as orthopedic care, online visibility is critical to the success of your clinic. If you want to attract new patients while building a loyal patient base, you'll need a strong orthopedic marketing strategy.
In today's landscape, where your potential patients can find answers to just about everything online, you'll need to invest in digital marketing services, in order to increase your patient volume.
Find and Convert New Patients for Your Orthopedic Practice
When someone searches online for an orthopedic specialist, most of the time, they're needing to see someone soon. Unlike a dentist or family physician who routinely sees patients, orthopedic practices only see patients when there is a problem-usually a critical problem-with someone's back, hips, shoulders, etc.
At Digital Logic, we understand the differences and unique challenges that orthopedic surgeons face and how they are different from other sectors of the healthcare industry.
There are over 39,000 members of the American Association of Orthopedic Surgeons. It's crucial that your orthopedic practice has a strong online presence, so that you will be the physician that is contacted when someone needs an orthopedic surgeon.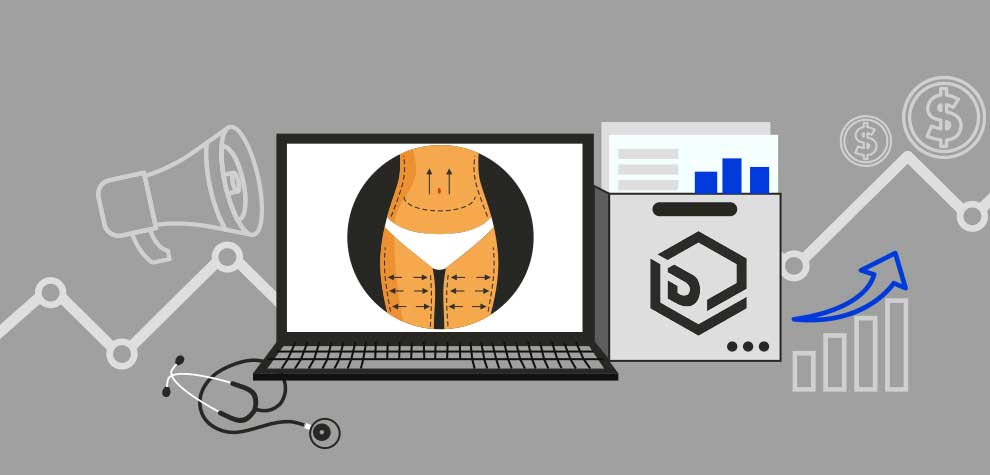 Plastic surgery marketing refers to the marketing strategies plastic and cosmetic surgery providers, and practices use to attract new patients and increase awareness of their
Read More »
The best online hospital marketing techniques to engage local consumers and keep them engaged with your hospital system.
Read More »
Working with Digital Logic was the best marketing move I've ever made for my practice. They have helped me continually stay booked with the right kind of patients with their strategic approach to drive more traffic to our website.
Orthopedic Digital Marketing Services
An orthopedic marketing strategy can include a professionally designed website that's optimized for SEO and mobile. A strong orthopedic content marketing strategy that answers the questions that your potential patients may be asking. And, a paid healthcare marketing strategy that gets your orthopedic brand out there, front and center, so that you can start capitalizing on your physician marketing investment and getting more patients faster, regardless if you're a private practice or part of a multi-location facility.
What is Orthopedic PPC?
PPC, or Pay Per Click, is just one piece of orthopedic marketing services. It allows you to promote your orthopedic practice on Google or other search engines, such as Bing. With paid orthopedic marketing campaigns, you're able to place ads that will show up at the top of the search results for orthopedic specific keywords or phrases, such as "Orthopedic Doctor in Dallas" or "ACL Repair in Houston".
How Does Orthopedic PPC Work?
PPC ads work on a bidding system, where you choose how much you'll pay when your orthopedic marketing ad is clicked. You only pay when someone clicks on your ad, meaning that you will never pay to show your ad to searchers who aren't interested in what your practice has to offer.
The caveat here is that you need to know what you're doing. And, although the process seems pretty straight forward, in the medical industry, you can waste a big chunk of your budget showing for items you didn't intend to show for or not having a good target audience for the keywords your digital advertising for.
In almost every industry, digital marketing included, there are some things that you can learn via training, in order to become proficient. And, there are other things that really only experience can teach. With PPC advertising, especially healthcare PPC advertising, you really need an orthopedic marketing agency that has both.
PPC for Orthopedic Practices
At Digital Logic, our PPC experts:
optimize your Google ad campaigns for orthopedic industry specific keywords with the highest relevance and potential to convert. We design our paid advertising campaigns to help orthopedic surgeons get a steady stream of commercially insured patients quickly.
include your clinic's location data on all of your orthopedic marketing ad groups, targeting the most qualified audience so that your clinic can get the right patients
work with healthcare practices, tailoring our marketing efforts to fit a fair budget
organize your orthopedic practice's ads by keyword groups and direct those Google ads to the most relevant landing pages to ensure you receive the most effective orthopedic marketing results from your paid ads
run A/B test on all of your ad groups, using Google Analytics, so that your online marketing ROI will continue to increase
Our goal when running ad campaigns for orthopedic surgeons is to see consistent improvement in ROI, so that our clients can trust us with bigger budgets, down the line.
This is how we grow. This is how you grow.
When considering orthopedic marketing ideas, SEO, or search engine optimization, is the factor that tends to get overlooked. However, it is the single most important marketing investment you can make for your orthopedic practice. This is because SEO increases your online visibility by improving your clinic or brand's rankings in search results for queries related to the orthopedic services you offer or conditions that you treat.
Why is Orthopedic SEO Important?
The first page of search results on Google, the largest search engine, gets 92% of the traffic for a search query. Ranking on any page after the third means that you'll receive less than 1% of the traffic.
So, if your orthopedic marketing campaign doesn't currently include professional SEO efforts, you're probably wasting more money than you should be.
There are over 4.4 million orthopedic related Google searches that take place each year in the United States. And, an additional 1 million searches specifically for the terms, "orthopedic surgeon", "orthopedic surgeons", "orthopedic doctor", "orthopedic doctors", and "orthopedic physician".
At Digital Logic, we're SEO experts who have years of experience offering orthopedic marketing services to the healthcare sector. Our proven SEO strategies ensure that your orthopedic marketing campaigns are well-rounded and that your practice consistently ranks for the keywords that your potential patients search for.
Local SEO for Orthopedic Practices
We're pros when it comes to local SEO for medical practices. Because we understand that most of your new patients are going to live within a certain proximity to your location, we target specific areas when we build out your content. We also understand that specific conditions will require special treatment and thus, more patients in those categories will be willing to drive further, if it means getting better care.
We take every piece of our clients' story to craft tailored orthopedic marketing strategies.
Orthopedic Surgeon SEO Services
At Digital Logic, our SEO professionals:
conduct keyword research, using orthopedic industry specific keywords with a higher chance of converting
work with our PPC team to create separate service or treatment pages
ensure that all of your orthopedic website pages have the perfect amount of high-quality content, so that you can outrank other orthopedic clinics on Google and other search engines
optimize your website headers to include the target keywords
add meta titles and descriptions to all of your blogs and pages, so that Google can understand what each page or post is about
include alt descriptions on all images so that Google and those with visual or cognitive impairments can understand your images
resubmit your orthopedic practice's XML sitemap to Google Search Console after we've made major changes to your site, so that it can be crawled and re-indexed more quickly
Website design is an important piece of orthopedic marketing services. This is because having a well-designed site encourages potential patients to stay on your website, once they find it on Google or other search engines.
Your orthopedic website should be organized, easy to navigate, and mobile responsive-at minimum!
Web Design Matters for Orthopedics
Potential clients will become frustrated when they can't find what they're looking for on your site, and will simply look for the information on another orthopedic practice website. This is especially true for busier, more competitive metros.
To prevent this, we always include an intuitive navigation bar that includes the information patients and potential patients most commonly search for.
Our web design team at Digital Logic also uses interactive elements that help entice more prospective patients to say and learn more about the services that our orthopedic marketing clients provide. They work with our SEO team to ensure that our sites are optimized to be found on search engines, right out of the box.
Website Development for Orthopedic Specialists
At Digital Logic, we:
ensure that sites for orthopedic and specialty physicians are fully integrated for healthcare SEO by creating content to help attract new patients and put orthopedic practices in the best possible position for increased traffic on Google and other search engines
craft a web design that is responsive on all devices
include creative call to action structures and contact forms-giving your orthopedic practice the boost it needs to increase quality patient volume
include patient testimonials and reviews to support your online reputation management efforts
optimize the site for UX, or user experience so that your potential patients will intuitively know how to navigate your orthopedic practice's website
include descriptions of the services you offer and conditions your clinic treats for optimal search results
A professionally designed site from an award-winning orthopedic marketing agency, like Digital Logic, will improve your overall digital marketing strategy, help your site rank high and convert more quality leads into paying patients.
Work With the Best Orthopedic Digital Marketing Agency
At Digital Logic, we get rid of your campaigns that aren't generating your practice a profit. Our digital marketing experts know how to optimize your campaign in order to get the most value for your budget. We're able to help your practice get more patients by launching highly targeted ad campaigns and industry-specific SEO strategies, driving high value patients directly to your clinic.
We're an award winning orthopedic marketing agency, and we offer a free consultation to anyone who is looking to grow their medical practice.
We provide our clients with accurate, real-time data, so that they can see exactly where their marketing budget is spent and how well our orthopedic marketing services are working.
See how our orthopedic marketing services can get your practice more clients!
Orthopedic Marketing FAQs