Hire the Best PPC Consultants
Are your Google ads being noticed by potential consumers, or are you just wasting money running PPC campaigns? At Digital Logic, our PPC consultants combine expert keyword research and well written ad content, with a professional landing page experience to increase conversions for your business.
Why Choose PPC Campaigns?
Pay per click (PPC) advertising is one of the strongest digital marketing strategies you can select for your business. That is, if you hire the right PPC specialist to run your advertising campaigns.
When implemented correctly, PPC ads can boost your brand awareness, generate new leads, and help your business achieve higher conversion rates.
At a glance, pay per click advertising may look simple, but in order to run a successful ppc campaign, you need extensive marketing knowledge as well as time devoted to testing your PPC campaigns.
Each paid ad can be supported by various bidding strategies, search engine optimization, website landing page experience, and creative copywriting.
As a leading internet marketing agency, we're experienced in every necessary area to ensure effective paid campaigns. We can devise a professional campaign strategy, implement that marketing strategy, and provide management services to oversee your marketing efforts.
When you invest in Digital Logic's PPC consulting services, you'll own your PPC accounts while benefiting from our experience and data-driven approach to PPC advertising.
PPC Consulting Services are Essential to Your Digital Marketing Strategy
Google ads can increase your brand awareness by 80%.
One thing that every business has in common is they all need customers. And, in order to keep a steady stream of leads, businesses must attract these customers using some type of marketing or advertising.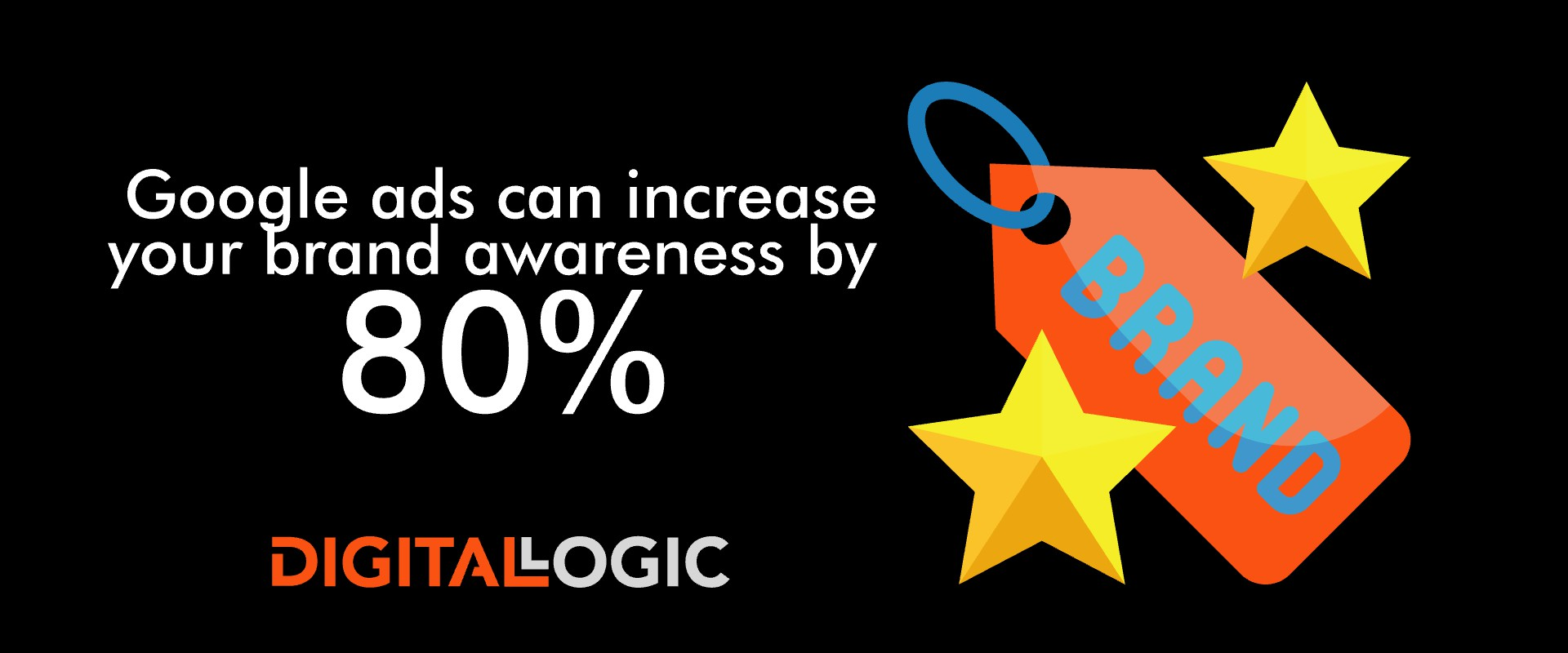 While some businesses choose to use their marketing budget on traditional forms of advertising, others have grown quickly by investing in hyper-focused digital marketing campaigns.
If online marketing or digital marketing is part of your overall marketing strategy, then PPC can quickly become one of the best options to choose!
Whether you want to increase brand awareness, reengage with previous website visitors, or drive traffic to your product or service landing pages, an experienced PPC consultant at Digital Logic can help.
Our PPC consultants are all Google certified, making each and every PPC account run by a Google partner. They have extensive experience navigating various bidding strategies, reaching the target audience for various industries, and driving quality conversions. With Digital Logic, you'll have a dedicated PPC consultant who can help with every piece of your digital advertising strategy.
Our PPC Management Process
In order to create effective paid campaigns, your dedicated PPC advertising consultant will:
help define and hone in on your target audience
set up your Google ads account
work with our search engine optimization team to conduct keyword research
select the best keywords for your ad campaigns
devise a bidding strategy that works within your monthly ad spend budget
craft enticing, well-written ad copy
work with our graphic designers to create professional graphics
work with our SEO team to ensure landing page optimization
test every PPC campaign, and tweak ads that aren't performing as well
compile data using Google Analytics and other relevant marketing software
PPC Consultants that Understand the Buyer's Journey
Consumers are 70% more likely to purchase your product or service when you use remarketing.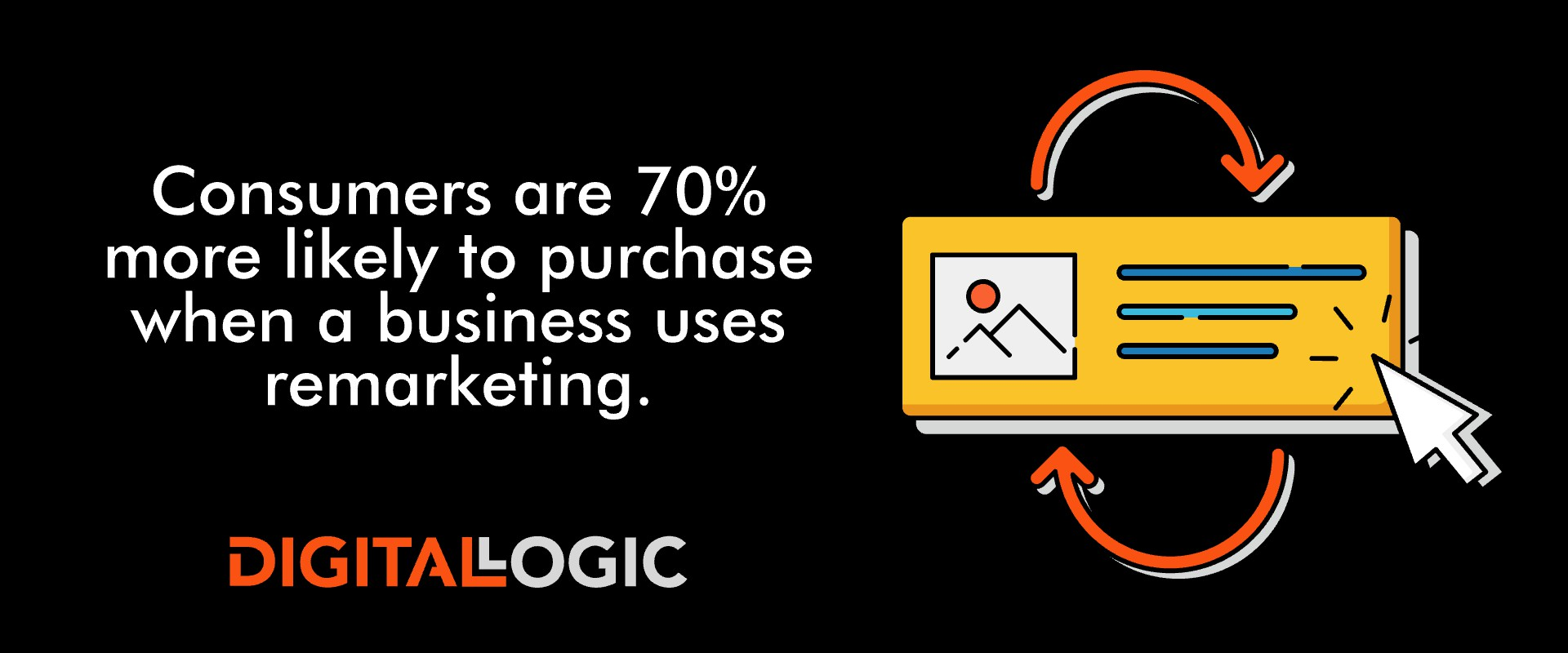 While a good PPC consultant can help you get clicks, a PPC expert can help lead your potential customers through the buyer's journey, hitting every touchpoint along the way. Our PPC consultants understand how to reach your target audience using intent-based keywords, how to select the correct bidding strategy based on goals and industry, how to maximize customer engagement using search engine marketing, and ultimately, how to increase ROI and business profitability.
We're the go-to for local online marketing services.
How Google Ads Grow With Your Business
The biggest issue that business owners have with Google Ads is ad spend. A professional PPC consultant can help.
If you don't have a good amount of experience with PPC strategy, then the competitive keywords you've likely selected can take up all your ad spend before you even have the chance to reach potential consumers.
Businesses invest in PPC consulting services to identify the pay per click keywords that can potentially attract target consumers without eating all of the ad spend.
An expert PPC consultant at Digital Logic can help your business save money on PPC marketing by improving the quality of your PPC ads. We understand what Google looks for in a PPC campaign. This understanding gives us the ability to maintain lower cost per click (CPC) prices and prime placement options.
By adopting an inclusive digital marketing strategy, our PPC consultants work with our organic content team, providing the ability to appeal to consumers who engage with your brand across various channels at various phases of the buyer's journey.
PPC marketing will provide the leads that your business needs to survive while our SEO marketing team builds up unique content to help your site rank organically.
Proof of Success with PPC Consulting Services
We understand that as a business owner, you need to conduct some research before investing in any online marketing services. When you aren't well versed in PPC management, Google ads, search engine marketing, or even ad copywriting, it can be difficult to distinguish the professional PPC consulting services from fraudulent PPC consulting fronts. And, we understand.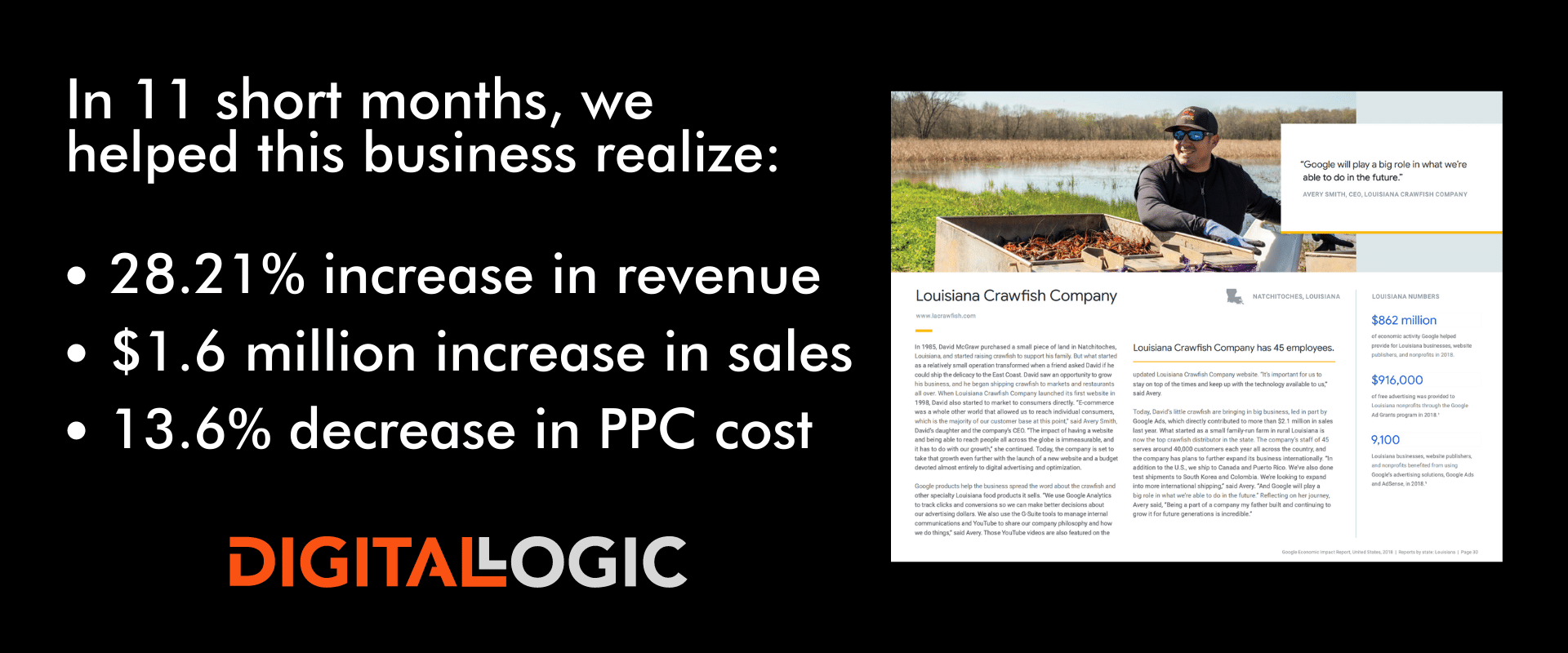 One of Digital Logic's clients, Louisiana Crawfish, is featured on Google's Economic Impact Report for Louisiana. This company came to one of our expert PPC consultants. The owner expected a certain ROI for his Google ads campaign, and as long as his dedicated PPC consultant could ensure the ROI continued to increase, he would increase his ad spend budget.
11 short months later, Louisiana Crawfish found themselves as a featured company for Google, themselves.
When interviewing other PPC advertising agencies, see if they have helped any of their clients' PPC accounts accomplish anything close.
Data Driven PPC Strategies
The PPC consultants at Digital Logic understand that in order for any advertising campaign to be effective, you need data that spans across various marketing channels. No one can improve a PPC strategy if they don't know where they stand. Our PPC campaign analysis ensures that your Google ads and business, in general, are on track to meet or exceed paid advertising goals.
Your dedicated PPC consultant will measure the PPC campaign metrics that matter most to you.
These metrics typically include:
Click-through rate (CTR)
Conversion rate
Cost per conversion (CPC)
Impressions
Return on Investment (ROI)
Clients who invest in our PPC consulting services are free to check their accounts at any time using our transparent data software, Google Ads (formerly Google AdWords), or Google Analytics. We don't hold your account hostage, and we agree that you deserve to know where your money is going! Your dedicated PPC specialist will also send monthly and quarterly analytics reports. We're always available to schedule a phone or web conference if you'd rather us talk you through your digital advertising campaign progress.
PPC Consulting FAQs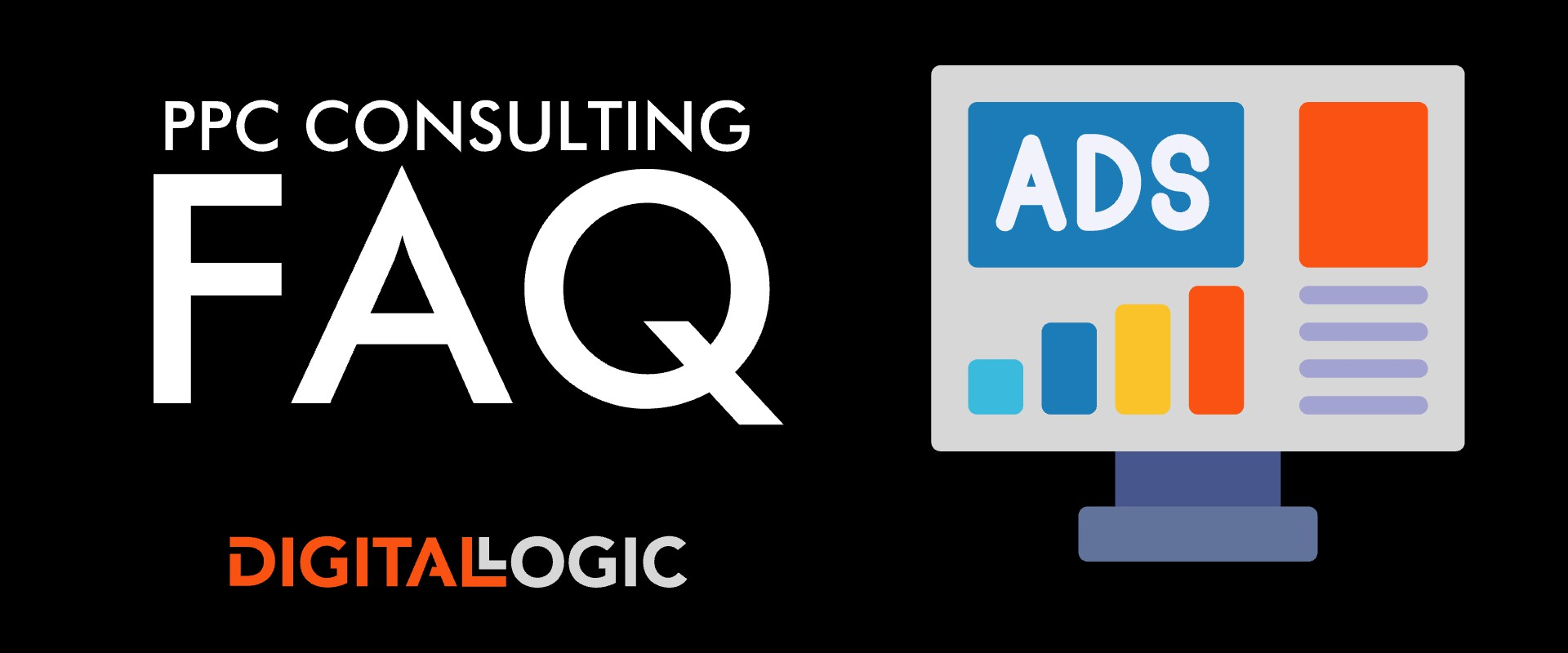 What are the Types of Pay Per Click (PPC) Ads?
Search Ads
The most common type of PPC advertising is search ads. At Digital Logic, we work primarily with Google Ads and Bing Ads, as these have proven to bring the best return on investment.
When you search for a product or service on Google, you'll see search ads displayed above the organic results on the SERP (search engine results page).
You will also see a subtle script that identifies search ads.
Display Ads
Display ads include graphic ads and banner ads. They appear on the side of search engines when you're scrolling through a website.
Google's display network can reach over 90% of the web. So, if your business needs to increase brand awareness, this type of paid search can help.
Social Media Advertising
Social media ads are displayed across various social media networks. This can include images or videos. Lately, social media advertising has become more popular among smaller businesses. When executed correctly, these ads can also increase brand awareness. For driving sales, however, we'd still recommend using Google ads.
Other common types of paid media include video ads, such as YouTube ads, and Google shopping ads.
Is PPC a Part of SEO?
We can see how this can be confusing. Often times in the digital marketing industry, you'll hear paid advertising also referred to as search engine marketing. This is different than search engine optimization.
PPC marketing and SEO are two very different digital marketing strategies. But, the two can go hand in hand to ensure optimal online marketing campaigns.
SEO will affect your PPC advertising campaigns, but your PPC marketing efforts shouldn't any organic marketing using search engines.
Regardless of whether you're investing in search engine marketing or search engine optimization, the goal is the same: to drive quality leads to your website and convert those leads into paying customers.
When run by an experienced PPC consultant, PPC ads can produce results almost immediately, while your SEO campaign will take several months to increase ROI.
Is PPC Consulting Expensive?
Expense is always a matter of perspective. If you don't have the budget to hire a marketing agency or PPC consultant, then your marketing objective will be to drive sales. And, if the average cost per click on PPC ads is expensive in your industry, then yes, it can seem expensive.
However, it's important to understand that your PPC consultant will bring specialized knowledge and experience with Google Analytics and keyword research that is invaluable.
Regardless of whether or not you hire a PPC consultant for your own business, it all comes down to profit. If you're trying to run a Google Ads account on your own, and your paid search strategy isn't working, then you're losing money. If your business depends on consumer leads, then you'll need to hire a PPC consultant with experience.
At Digital Logic, we take a percentage as a pay per click management fee. Your PPC consultant will discuss the factors that affect this price upfront, and there are never hidden fees.
Find the Right PPC Consultant for Your Growing Business
If you think it's time to hire a PPC expert to help grow your business, talk to a professional PPC consultant at Digital Logic.
Search engine marketing can be extremely challenging and expensive if you do it on your own. The good news is that you don't have to. At Digital Logic, we help companies everyday. Whether you're a small online business or a multi-location conglomerate, we have a PPC consultant that can help your meet your business goals.
If you want to partner with an agency with a track record of excellent results, let's start the conversation.
Our PPC consultants have expert industry experience in but aren't limited to the following: