Digital Marketing for Medical Spas
MedSpas, also termed medical spas and medical aesthetic practices, are easily one of the fastest growing industries in the United States. The younger generations want to avoid plastic surgery when they're older and are choosing to invest in their skin health sooner than later. But, with industry growth comes a rise in competition amongst pre-existing and new-coming medical spas. Using traditional forms of advertising to market your medical spa won't work anymore. In order to grow your med spa business, you must meet your potential and existing clients where they are-online. MedSpas serve a wide audience. The older patients want to look young again without undergoing a surgical procedure. The younger patients want to proactively stop signs of aging. And, regardless of their age, each potential patient has a specific skin challenge or condition that they're hoping to address with your medspa services. When a potential patient is looking for the services that your medical spa offers, are you the business that they choose? Can they even find your business online? If you're looking to grow your medspa practice, you need professional medical spa marketing services from Digital Logic.
Get Help From the Best Med Spa Marketing Agency
Many medical spa owners consider hiring a med spa marketing agency an expense. This isn't the right way to look at digital marketing services that are offered by a reputable online marketing agency. When you invest in med spa marketing, you're doing just that-making an investment into your business. If you invest in PPC ads, then you're making a short-term investment. And, if you invest in website development or search engine optimization, then, you're making a long-term business investment. Simple as that!
At Digital Logic, our med spa marketing team provides a completely custom digital marketing strategy that is targeted to reach those difficult-to-convert inquirers, turn them into paying customers, and then, turn those customers into lifetime brand representatives.
We've helped countless medspa clinics and plastic surgery centers across the United States realize their potential through our digital marketing methodology.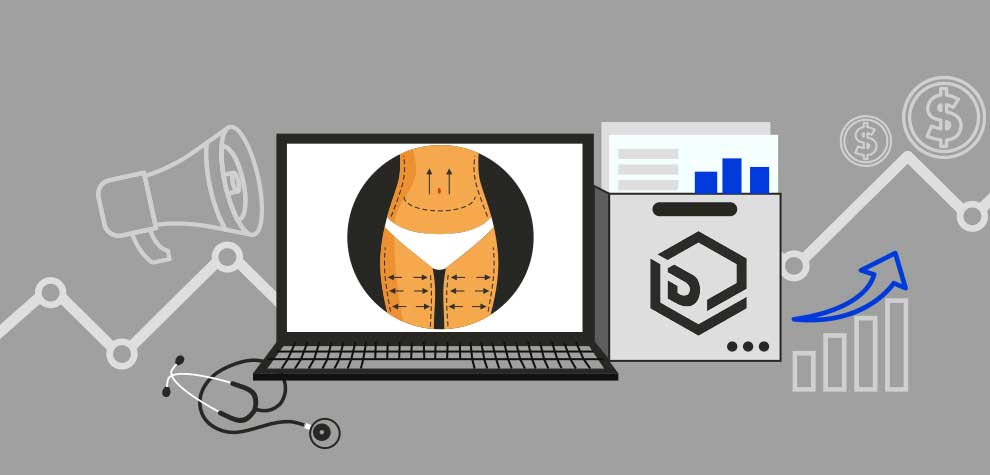 Plastic surgery marketing refers to the marketing strategies plastic and cosmetic surgery providers, and practices use to attract new patients and increase awareness of their
Read More »
Working with Digital Logic was the best marketing move I've ever made for my practice. They have helped me continually stay booked with the right kind of patients with their strategic approach to drive more traffic to our website.
Why MedSpas Need a Digital Marketing Strategy
Your potential patients are searching for private medical practices, just like yours, online more than they are anywhere else. Therefore, in order for your med spa to grow, you need to ensure that your previous, current, and potential patients are able to see your business online.
You cannot grow your med spa if no one can find you in the search results.
Your med spa marketing strategy may be the deciding factor between your clinic's success or failure. And, sadly, as a leading healthcare marketing agency, we see many medical practices come to this realization after their business has started to wane.
In years past, medical spas that had professionally designed websites were ahead of the plastic surgery industry trend. Now, if that's all you have, it certainly isn't enough to come out even, much less grow your med spa.
Medical practices need to offer consistently positive reviews from existing patients, provide timely med spa content, and include online opportunities for new or existing patients to connect with them.
As a premier med spa marketing agency, we can promise that our online marketing strategies will not only help your med spa rank higher in the search results, they'll also help your med spa retain patients at a much higher rate than traditional forms of advertising. Also, unlike traditional medspa marketing, digital marketing allows your med spa to have flexibility in terms of your targeting and provides real-time data to track your return on investment.
What Makes Digital Logic's Approach to MedSpa Marketing Different?
At Digital Logic, our med spa marketing experts have an established, proven track record for providing exceptional marketing campaigns using the latest marketing tactics. When local businesses invest in our digital marketing services, we develop a completely custom marketing strategy to help them reach prospective clients and retain existing clients. Regardless of whether you need a better digital presence for one location or for many, the experts at Digital Logic have you covered!
If you need med spa marketing ideas, a new medical spa website, your current med spa's website redesigned, search engine optimization services, PPC management services, or social media marketing management services, the professionals at Digital Logic will work with you to achieve your digital marketing objectives.
No Long Term Marketing Contracts
Many other medspa marketing companies will make their clients sign a super long term contract before offering a med spa marketing plan or providing services. At Digital Logic, we don't believe in tying our clients to ultra-long contracts. Instead, we get new leads from current client testimonials and organic marketing, just like we do for our clients.
We provide exceptional services and our clients never want to leave. No lengthy contract required.
Other medspa marketing companies will take over website ownership, once a med spa owner decides to no longer use their services. This is extremely unfair and a bad business practice. Here, we call this the "website hostage situation". (Sadly, it happens often enough that we've termed the action.) We normally see this "marketing tactic" used by big-box medspa marketing companies that really don't have any intention of providing services that will boost medical practices.
However, when our website developers at Digital Logic build or redesign your med spa website, you own your website. After all, you paid for the website. And, if the time ever comes that you wish to part ways, we will do our best to ensure that process runs smoothly, as well. We will give you a couple of options: we can simply host your site at the going market rate, or we can release everything to you and you can host the site elsewhere.
We understand how difficult it is to be a small, local business, and we genuinely love to see small businesses succeed. We've helped clients retire early, and we've had clients leave, only to return a year later, a month later, and in one case, the next day! So, we understand the importance of applying the golden rule to our business, regardless of what makes the best sense, monetarily.
Experienced, Dedicated Account Manager
The medical spa industry is a competitive space, and in order to compete, you need someone with extensive med spa marketing experience. At Digital Logic, we provide every client with an experienced, dedicated account manager. Every account manager on staff here is Google certified and implements Google's best practices.
Our account managers are expected to help their client's businesses grow by conducting location-specific keyword research, targeting qualified leads, and creating well crafted content to convert those leads into paying customers.
Online Reputation Management
Nobody wants to feel like a test dummy. You can rest assured that your potential clients are doing their research before they call a medical spa for services. So, ensuring that your online reputation is solid is critical to the long term success of your medical spa.
As potential clients see positive reviews about your medspa, their confidence in your ability increases.
The quality of the online reviews are just as critical as the number of online reviews your business receives. Of course, you'd love it if everyone gave your medical spa a shining, 5 star review, but this won't always happen. Here's where Digital Logic can help. If you only have 10 reviews and one of those reviews is negative, this can drastically hurt your business. But, if you have 100 5 star reviews and one of those is negative, well then, that person just looks like a jerk, instead of a patient that the searcher should feel sorry for. Pretty straightforward, there.
At Digital Logic, we'll monitor your reviews and help you be proactive with getting those necessary positive reviews. We'll compile all of your reviews across multiple review platforms and ensure that your prospective clients are able to see them all!
Digital marketing is the best investment for marketing a medspa. At Digital Logic, we recommend investing in a professional website development service, and then, investing in monthly PPC management and search engine optimization services. Additionally, medical spas can use a variety of marketing techniques to help increase the efficacy of digital marketing efforts. In-house medspa marketers can craft promotional emails for email marketing campaigns, distribute direct mail for direct mail marketing campaigns, post videos on social media, if the social media platform allows, or on the medspa website, respond to online reviews for increased reputation management, set up outside events, etc.
While anyone can certainly receive medspa services, for the purposes of medspa marketing, we need to hone in on the specifics that determine whether or not a searcher will convert into a paying customer. Since medical spas provide services such as Botox injections, chemical face peels, and other anti-aging procedures, the target market for most locations is men and women who are over the age of 35 and want to look more youthful. Additionally, target markets can include recently divorced individuals who are working professionals or individuals who lead outdoor lifestyles that may have taken an early toll on their outward appearance.
It takes money to make money. We all understand that. However, when you're faced with coming up with a medspa marketing budget, determining the correct figure can be difficult.
You need to spend enough for your marketing strategy to be effective, but with the growing competition, you aren't confident in spending too terribly much.
We advise med spa owners to treat a marketing budget as an investment. In order to get a bigger reward over time, you'll need to invest more now. But, there is obviously a HUGE difference between spending lots of money and investing wisely. For this reason, we recommend really researching several medical spa marketing companies before investing in any of them. Once you've found a great medical spa marketing agency, a good rule of thumb is to invest anywhere from 7-15% of your gross revenue in digital marketing efforts.
Keep in mind that there is a significant amount of front-loading that is necessary to establish a solid digital marketing foundation. Some marketing agencies charge anywhere from $10,000-$30,000 for initial branding, website, etc. Other marketing agencies drop this price significantly, but tie you to super long-term contracts. Agencies that do neither are few and far between. Typically when an agency doesn't hold a med spa owner accountable for these costs, they're either extremely new and don't know any better, OR they're extremely confident in their ability to provide exponentially better medspa marketing results. It's up to you or your in-house marketing representative to determine.
Choose Digital Logic For All of Your Medical Spa Marketing Services
It's truly a great time to be in the medspa business. There are plenty of great opportunities for growth, but the space is consistently growing in terms of competition. Your medical spa must stand out as a trusted resource in the medical aesthetics industry. So, a well executed digital medspa marketing strategy has never been more critical to the success of your business.
In order to remain successful in the medspa industry, you'll need to take a holistic approach to digital marketing-ensuring that your medical spa is producing both timely and relevant content and presenting it to those at the correct time. All of your online marketing efforts should work in harmony with external events and other marketing initiatives.
With med spa marketing services from Digital Logic, you're able to increase your brand awareness, generate more patient leads and better quality patient leads, convert those leads into paying customers, and secure patient loyalty. Our digital marketing services work because they are all patient-centered. We take our medspa industry knowledge and help your prospective clients make the easy choice for medical spa treatments: YOU!
You'll be surprised to see just how great the results are!