Digital Marketing for Physical Therapists
Whether you're opening the doors of a new physical therapy practice or have been in business for years, you understand that marketing is critical to the financial success of your practice. Less than a decade ago, physical therapy marketing consisted of word-of-mouth advertising, billboards, and physician referral sources. Now, the vast majority of your potential clients are searching for the PT services you offer on search engines, like Google. And, in order to compete with the growing healthcare industry, you'll need to have a strong online presence. Digital marketing is the best way to accomplish this.
But, in the healthcare industry, it's no secret that digital marketing efforts are the bane of every practitioner's existence.
While there's certainly no shortage of physical therapy marketing ideas, you understand that ultimately you are responsible for compliance concerns. So, marketing tasks become some of the most dreaded tasks in the office. And, you understand that digital marketing is certainly not a "one-off" task-in order to increase patient volume, you must consistently produce new content and interact with potential patients online.
The good news is that it's never been easier to grow your clinic through physical therapy marketing services from Digital Logic.
Get Help From the Best Physical Therapy Marketing Company
At Digital Logic, we focus on creating a PT marketing plan that creates as many chances as possible for your physical therapy clinic to get found online by those looking for physical therapy services.
Physical therapy marketing efforts should focus on creating a real connection between potential clients and physical therapists online. When your PT practice has a user-friendly website, shows up on searches for local physicians, and is able to maintain a positive online reputation, you're able to increase your brand awareness and increase patient leads. This, in turn, will increase the odds of potential patients visiting your PT clinic when they need your services.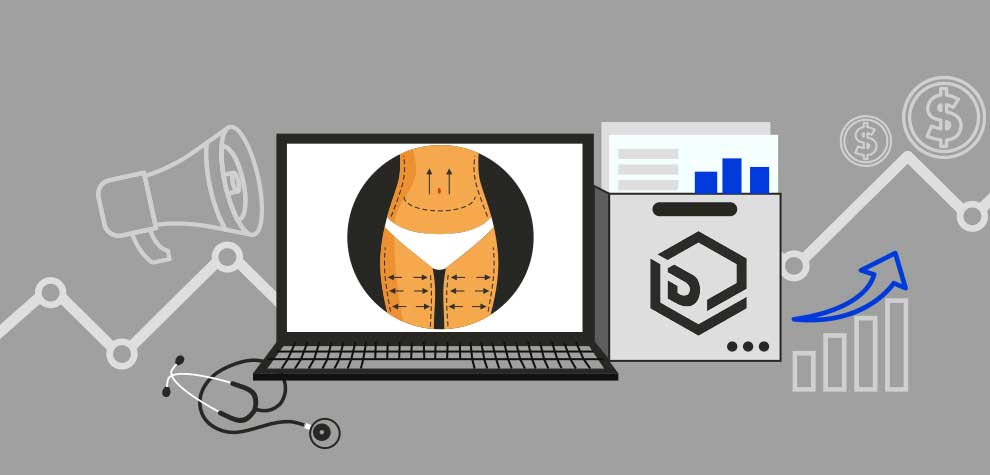 Plastic surgery marketing refers to the marketing strategies plastic and cosmetic surgery providers, and practices use to attract new patients and increase awareness of their
Read More »
Orthopedic marketing refers to the marketing strategies orthopedic surgeons and orthopedic providers, and practices use to attract new patients and increase awareness of their orthopedic
Read More »
Working with Digital Logic was the best marketing move I've ever made for my practice. They have helped me continually stay booked with the right kind of patients with their strategic approach to drive more traffic to our website.
What is a Physical Therapy Marketing Plan?
A physical therapy marketing plan is simply an organized compilation of physical therapy marketing strategies that work in tandem to grow your practice. These marketing strategies all work together to reach your target audience while staying within your marketing budget.
And, of course, the physical therapy marketing strategies will differ depending on the location, practice size, and whether we're marketing for a physical therapy clinic or a single physical therapist:
A physical therapy practice marketing plan approaches digital marketing for the purposes of marketing an entity. It highlights the shared values and highlights the experience of the physical therapists and staff collectively.

A physical therapist marketing plan simply focuses on the individual physical therapist and marketing his or her services.
At Digital Logic, we have extensive experience marketing both physical therapists, as well as multi-location physical
Why Physical Therapists Need Digital Marketing Services
Your potential patients are searching for private practices, just like yours, online more than anywhere else. So, in order for practice owners to grow their business, they need to make sure previous, potential, and existing patients can find their business online.
You cannot grow your practice if no one can find you in the search results.
Your PT marketing strategy can ultimately be the deciding factor between your clinic's success or failure. Unfortunately, we see many physical therapists come to this realization after their business has started to wane.
In the past, physical therapists who had a professionally designed website were ahead of the industry trend. Now, simply having a pretty website isn't going to do much, if any good, if you're wanting to reach more patients. Physical therapists need to offer positive reviews from past patients, provide timely PT content, and include online opportunities for patients to connect with them.
At Digital Logic, our marketing experts provide a completely custom physical therapy marketing strategy that will convert website traffic into paying patients and your current patients into brand representatives. Our marketing strategies will not only help your practice rank higher in the search results, they'll also help your practice retain your previous patients at a much higher rate than traditional advertising.
Furthermore, unlike traditional advertising, digital advertising allows your private practice to have flexibility in terms of targeting and tracking your return on investment.
Over the past few years, physical therapists across the United States have come to rely on our advanced digital marketing services. If you need a steady stream of new patient leads, a physical therapy marketing campaign from Digital Logic may be just the ticket!
What Makes Digital Logic's Approach to Physical Therapy Marketing Different?
At Digital Logic, our marketing experts have a proven track record for providing exceptional healthcare marketing campaigns. When you invest in our services, we'll develop a custom physical therapy marketing strategy to help you reach prospective patients and retain current patients. We provide professional online marketing services to single physical therapist locations and multi-location practices.
Regardless of whether you need PT marketing ideas, a new website, search engine optimization services, PPC management services, or social media marketing management, we will work alongside you to achieve your marketing campaign goals.
No Long Term Marketing Contracts
Many healthcare digital advertising agencies will make their clients sign a long term contract before offering a digital marketing plan or providing services. At Digital Logic, we don't believe in tying our hardworking clients to super long contracts. Instead, our primary focus is on providing the best physical therapy marketing services we can!
You Own Your Website
Many of our current clients have previously fallen victim to the "website hostage" situation. There are too many online marketing companies that will hold their clients' websites hostage after the client decides to no longer renew their contract. We normally see these "marketing tactics" used by big-box agencies who don't have any intention of providing services that will help their clients.
But, when Digital Logic redesigns or builds your website, you own that website. And, if later down the road, you decide that you no longer want to work with us, we will provide you with a couple of options: we can host your site for you at the going market rate, or you can host your site elsewhere.
Regardless of how long you've been with us as a client, we genuinely want the best for you! We love seeing small businesses succeed. Plus, we've had several clients decide to try another medical marketing agency, only to quickly return. So, we truly understand the importance of The Golden Rule and how it relates to business opportunities.
Experienced, Dedicated Account Manager
At Digital Logic, we provide an experienced, dedicated account manager for every one of our clients. Every account manager on staff is Google certified and experienced enough to provide the specific PT marketing strategy you need to succeed.
Online Reputation Management
In many cases, physical therapy is elective. So, many times, patients have the luxury of choosing the local therapist with whom he or she is the most comfortable with.
Many prospective patients value online reviews just as much, if not more than doctor recommendations. Because of this, you need to have a proper process in place to monitor how your patients truly feel about your physical therapy services in their online reviews. A few negative remarks can really stunt the growth of your physical therapy practice.
In order to tackle negative reviews, we focus on generating as many positive reviews for your physical therapy clinic as possible. When a potential patient sees that the vast majority of your patients are happy with your services, this takes the attention away from the negative online reviews.
When you partner with Digital Logic, in addition to providing a better ROAS, or return on ad spend, and increasing your online visibility, our healthcare marketing experts will also help you manage your online reputation. We will monitor your phone calls for ad relevance via call tracking software, alert you to negative patient testimonials, capitalize on positive patient reviews, and make sure that you have a thriving social media presence.
Physical Therapy Marketing Services
The goal of paid advertising or investing in paid search campaigns is to drive more qualified potential patients to your website and to convert those potential clients into paying patients. At Digital Logic, we personalize all of our PPC campaigns to target those who are actively searching for the physical therapy services that your clinic offers.
Here, we're able to target your PPC, or pay per click, ads to your ideal audience. This ensures that you only have to pay for the clicks selected by those who are truly interested in your specific PT services. If you need to increase your brand visibility while targeting the best new patients, then Google ads should be a part of your monthly PT marketing budget.
When you partner with us for healthcare PPC services, you'll see an increased return on your Google advertising investment. We ensure this by creating a custom landing page for each ad group, targeting the best local physicians and prospective clients, and crafting an enticing call to action consistently.
We'll work with you to determine which PT services bring in the most revenue and which services you prefer not to offer. This helps us to set our targeting parameters and budget accordingly.
Lastly, in terms of a Google ads return on investment, for every dollar you spend on PPC ads with Digital Logic, you should receive at least a two dollar return. We have some of the best PPC campaign managers in the business!
SEO, or search engine optimization, is an online marketing strategy used to increase the quantity and quality of organic traffic sent to your site. Your potential new patients will typically use a search engine, like Google, to find reputable, local healthcare providers.
Search engines give those searchers direct access to Google maps locations, Google reviews, and answers to any questions they may have. The trend isn't going anywhere, so you really need professional SEO services as a major part of your online marketing budget
At Digital Logic, we provide complete physical therapy search engine optimization services. Our experts know how to create a professional, personalized organic Google search strategy to fit almost any marketing budget and set of needs.
Physical Therapy Website Development
Your physical therapy website is the hub of all your digital marketing efforts. A well-thought out website design can increase your Google rankings, making it easier for you to be found in local searches, and in some cases, even improve your paid physical therapy advertising results.
Furthermore, your website is the first point of interaction with potential patients, so your design is critical when you're marketing your physical therapy services to those who may be interested. Your website should make your physical therapy clinic or clinics look credible, compassionate, and able to provide results.
At Digital Logic, we create physical therapy websites that are beautifully designed, secure, easy to navigate, fast, and responsive
Physical Therapy Marketing FAQs