Hospital PPC Advertising Services
It is critical for hospitals and medical facilities to gain exposure and grow their business through paid search.
Google search drives 3 times more visitors
to hospital sites, compared to non-search. This is by far the preferred way for patients to find hospitals online. Since search engines are important to potential patients, PPC advertising should be important for your hospital marketing strategy. Paid search is critical for capturing your target audience. So, how can you create a hospital marketing PPC strategy that outperforms your competition? Partner with an experienced hospital PPC company, like Digital Logic.
What is Hospital PPC?
PPC advertising is simply reaching a prequalified audience. As the advertiser, you only pay when the ad is clicked by your target audience. Although this sounds straightforward, hospital PPC is one of the toughest segments for digital marketing agencies to navigate successfully. Most digital marketing agencies that take on hospital clients will then hire the work out to hospital PPC experts.
Why Use PPC Advertising for Hospitals?
Many hospitals out there don't use PPC advertising. This means that you put yourself at an advantage literally by using Google or Bing ads to attract search engine users. Hospital PPC can also help your hospital gain more site traffic and brand awareness. It's extremely valuable to get in front of potential patients when they are looking for healthcare options online. For example, if someone searches for "open heart surgery + city name," the chances that they are looking for a hospital or surgeon locally are pretty high. It can be difficult to rank for popular key phrases, especially if you're a smaller hospital in a bigger city. However, with hospital PPC advertising, you can make sure that your hospital displays for at least some of those search queries.
Hospital PPC Digital Marketing Services
Keyword Research: PPC Trends for Hospitals and Healthcare Companies
A significant amount of time should be spent on the keyword list. The search terms that will trigger your hospital ads will vary.
The vocabulary of patients is going to differ drastically from those who know the in-and-outs of the medical field.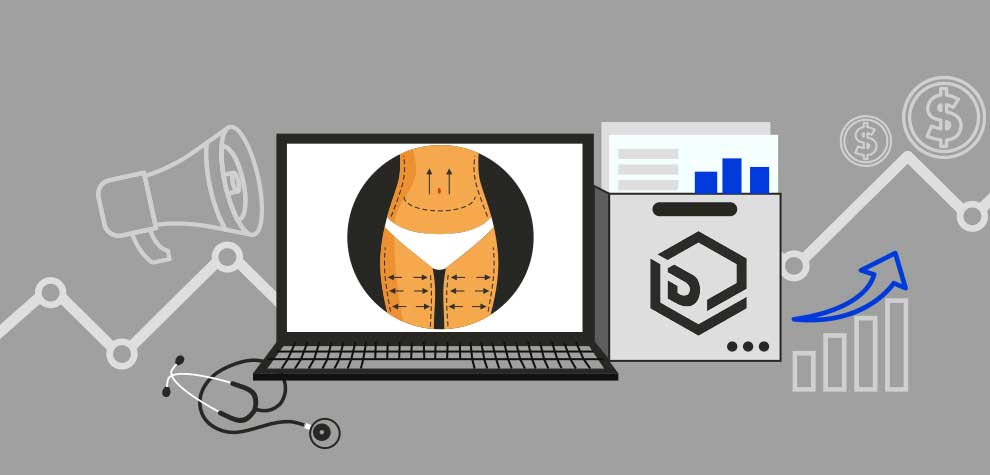 Plastic surgery marketing refers to the marketing strategies plastic and cosmetic surgery providers, and practices use to attract new patients and increase awareness of their
Read More »
The best online hospital marketing techniques to engage local consumers and keep them engaged with your hospital system.
Read More »
Orthopedic marketing refers to the marketing strategies orthopedic surgeons and orthopedic providers, and practices use to attract new patients and increase awareness of their orthopedic
Read More »
Depending on what you're wanting to market your hospital for, this will play a critical role in creating your Google or Bing ads. You don't want your ad to show to a medical sales rep when you're trying to find new patient leads, for example. 
It's important to group marketing strategies according to the types of customer segments. 
Target Audience for Medical Center PPC Ads
We feel that it's necessary to understand the target audience. In most cases, hospitals will have a few different buyer personas that will need to be targeted in different ways. For hospitals that are targeting medical professionals, the keywords, ad text, and landing pages need to be set up to speak the professional language expected between medical professionals. In some cases, different language is used depending on the level of experience, occupation, or persona that is being targeted. 
We also take into account the different stages that consumers are searching in. If you're looking to target new patient leads, you're more than likely targeting future patients. So, we'll determine if the person is in a research-heavy state of mind, weighing their options between providers, or in an emergency situation.
For example: your hospital accepts those with a basic foot injury.
There are three groups of potential patients that you can reach using hospital PPC:
Condition Researchers
The first group are those that have recently started feeling pain. They know something is wrong, but they're hoping it will go away. They're in the research phase, weighing options, just in case medical treatment is needed. Google allows you to specify which keywords and phrases you want to target, as well as which to exclude. This means that you're only paying for qualified leads.
Pain Experts
The second group are those with chronic pain. Think older ages and athletes, who have been injured in the past. They pretty much know exactly what they're looking for-the "I'll know it when I see it" type. This is why hiring an agency with experience in healthcare PPC is so important. We know which negative keywords to add early on, based on previous experiences.
Emergency Situations
The third group are those that are in emergency situations. They need a quick option, or they're calling 911. Having a high quality score indicated to Google that your ad and landing page are relevant to one another and useful to those who click on your ad.
Even though the problem, at its face, is generic, these three groups will search in very different ways. The terms they use will vary greatly. The second group will search with more attention to detail surrounding the actual area. The first group will use more descriptive terms for the pain. The third group will use basic terms and will be more specific on the geographical location of the medical facility they need.
Unique Landing Pages
Around 60% of visitors click through to a relevant website for hospital or healthcare information. In order to compete in this segment, you must have up-to-date information on an authoritative website. Otherwise, you won't find much success, even with the best ad copy.
You may need to update your site in order to get the best ROI from your hospital ads. For this, we recommend a professional hospital web design agency.
Provide Information on Your Hospital Website
We've all heard the saying, "less is more", but in the hospital and healthcare sector, this isn't true. And, when you think about it, this makes sense. Our health is the most important thing we have. This means your audience will want a lot of information in order to make the most informed decision, when it comes to their health. With the exception of those in emergency situations, most people conduct in-depth research before deciding on a physician or hospital.
With that being said, you need to make sure that you're also not sending your visitors to a page full of scrolling block text. Nobody wants that, either. You must find a balance between providing as much information as possible, while still adding details, such as images, videos, headings, bullet points, etc. to make the information more easily digestible.
And, don't be afraid to test! You can easily run A/B landing page tests, just like you could with ad copy. Continue to tweak your landing pages until you feel like you've hit your sweet spot.
Successful Campaigns Require Attention to Detail
It is critical for both B2B and B2C hospital marketers to make sure that a way to contact is readily available. Sometimes, you will have a patient that is in a state of emergency or in serious pain. Without a doubt, those leads are going to want immediate access to a phone number or address to receive care. We understand that you are only marketing to this customer, but that's why it's so important to know your audience and understand which ads are showing for certain keywords. 
Longer Buying Cycles
For keywords associated with longer buying cycles, you'll want to make sure that your landing page is loaded with all of the information the potential patient would need. Educating potential patients and clients upfront will save you time and make it easier for them to reach out when the time is right. 
For this reason, we also encourage investing in quality hospital SEO services and professional hospital web development services. 
For those in any stage of the buying cycle, you want to give as many opportunities to reach out as possible.
How can you ensure that you're utilizing every opportunity to have the lead contact you? 
Set up Call Extensions, location extensions, and sitelink extensions that link to your contact page
Make contact information available on every landing page
Let us help you maximize your PPC efforts with professional pay-per-click management services
Mobile Strategy
According to Google, over 50% of healthcare administrators use smartphones while making purchase decisions. There are many reasons for people to use cell phones, especially when searching at work, because they don't want their boss or coworkers to know about their medical condition. People tend to trust their smartphone over a desktop-it just feels safer (even though we know it's not). You'll see an increase in search during lunch hours, as well. Mobile search is here to stay, that's just the reality.
Attract a Mobile Audience
How can you make sure that you're attractive to those searching on their mobile device? You can start by:
Looking at your mobile stats. Before you're able to come up with a winning mobile strategy, you'll want to see how your PPC performance compares to desktop. You can do this by segmenting by device on Google Ads. Keep in mind that if you're getting clicks but no conversions, this may be because your landing page isn't optimized for mobile.
Making mobile bid adjustments. If you're already seeing great results with mobile, you may want to make a few mobile bid adjustments for certain campaigns. You can bid up to 300% higher on mobile for Google campaigns. Or, you can exclude mobile completely by making a negative bid adjustment of -100 (which we don't recommend).
Creating mobile preferred ads. Don't panic. Your desktop ads will show on mobile if you've skipped this step. However, it's better if you have several mobile-focused ads, as well as several desktop-focused ads per ad group. 
Having mobile optimized landing pages. Like we've already mentioned, if your landing pages aren't mobile responsive, then more than likely, you're going to lose lots of potential customers. How often do you visit your site from your mobile device? If you don't have a hospital PPC agency that does so on your behalf, you should make this a priority. Check to see how fast the page loads, if the content fits the screen correctly, is the contact info just as readily available as it is on the desktop version? All of these things are important!
Not being afraid of Call-Only campaigns. These are fairly new and are great for on-the-go mobile audiences, or those who need urgent care.
Tailored Hospital PPC Management
When running PPC ads for any industry, it's important to pay close attention to the metrics that matter. But, with the healthcare sector, this is even more important because, as we explained earlier, remarketing and display ads aren't really an option for hospital advertisers. This means that you need to be getting the maximum exposure on the search results page, so those who are searching don't forget about you. Remember, the sales cycle for many patients can be long.
It's also important to understand how Google's algorithm updates can affect metrics. It's always important to be at the top, so any changes, even blanket changes, should trigger account managers to take another close look at hospital PPC ads.
The most successful campaigns are those that are constantly monitored and updated. At Digital Logic, we closely monitor all of our PPC campaigns and aren't afraid to make changes when we see that one ad group is outperforming the other. Many agencies have what we call a "set and forget" strategy. This means that they set up your campaigns, make sure you're happy with the results for the first month or two, and then, let them run, untouched. This is bad business practice and something we don't stand for. There are always ways to improve your campaign's performance.
Hospital PPC Challenges
Even the best hospital marketing agencies face similar challenges to other industries, such as a high level of competition and expensive keywords. However, several additional factors exist that make the healthcare industry unique when it comes to winning at hospital PPC.
Before a digital marketing team opts to grow a business through paid search, it's critical to understand the challenges that are unique to the medical industry. 
Sensitive information:

Obviously, medical information is extremely sensitive. And, with strict privacy laws, such as HIPAA, as well as all of the newfound politics surrounding healthcare reform, seasoned marketers understand that they need to tread lightly.

Language restrictions:

When running hospital PPC ads on Google, you must be very selective on what words you use. Using terms, such as "drugs", "prescriptions", etc. will trigger Google to launch an automatic disapproval.

Competition:

According to one

Google study

, 1 in 20 searches on Google are health related.

This further demonstrates how competitive the healthcare field is within paid search. Regardless if you're trying to market a B2B or B2C under the healthcare umbrella, you're entering a highly competitive market. There are tens of thousands of vendors selling to hospitals, thousands of hospitals trying to get new patient leads, health professionals searching EHR systems, and private vendors selling essential medical equipment. The mix of it all leads to some very expensive keywords, to say the least!

No Remarketing:

This is probably the single biggest challenge when it comes to hospital ppc advertising. Google doesn't allow healthcare marketers to utilize popular retargeting tactics, which is one of the most effective ways to keep leads engaged with a brand during a longer

buyer's journey

.

Avoiding self-diagnosers:

This day in age, almost everyone tries to self-diagnose using Google. Only marketers seasoned with experience in the healthcare industry can avoid paying for unwanted clicks upfront. 
Digital Logic: A Hospital PPC Agency
If you're interested in utilizing hospital PPC ads or any other form of online advertising to reach new patients, Digital Logic can help. Our team of experienced professionals is well versed in the medial industry. We have years of experience creating and managing successful hospital marketing campaigns for our clients and can do the same for you!
Contact us today to speak with one of our healthcare marketing strategists about how we can help your center reach and treat more patients locally!