Grow your business with Digital Logic's monthly SEO services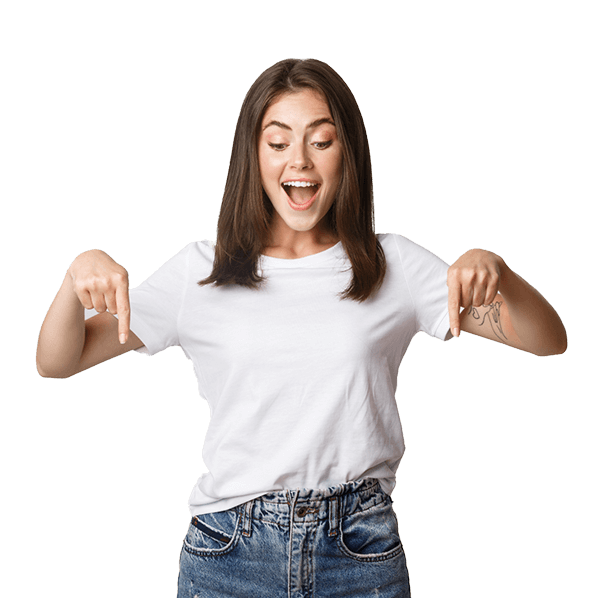 Small businesses that invest in digital marketing are 2.8 times more likely to experience revenue growth.
70% of small businesses are investing in digital marketing in 2023.
Companies that outsource their digital marketing efforts are 65% more likely to be generating a high ROI on their investment.
Full SEO Packages with Digital Logic
Everyone is good at something. Whether you're a lawyer fighting for your clients or a local business owner providing your community with the products and services they need, stick with what you're good at. Let the SEO experts at Digital Logic handle your SEO needs.
At Digital Logic, we offer several custom SEO packages to accommodate your individual needs.
Our monthly SEO packages cover every aspect of advanced technical optimization, link building, and content marketing that business professionals need to succeed.
As a leading SEO agency, we'll grow your website's online performance by conducting a SEO competitive analysis, identifying target keywords and ranking opportunities. We'll implement the necessary changes to increase the search engine rankings for your site. As your website traffic increases, you'll start to see an increase in revenue.
With Digital Logic's monthly SEO packages, your online business growth is within reach.
of global traffic comes from Google search, Google Images, and Google Maps
Other Digital Marketing Services
Unlike most PPC management agencies, we don't set campaigns on autopilot. We make campaign adjustments every week and often times on a daily basis.
Your website is a tool that should be used in order to draw traffic, convert traffic into customers, and maintain the relationship you have with your customers.
If you're not tapping into the potential of social media marketing services, you're losing customers to your competitors who are.
We tailor the content to your potential customer's needs and interests while conveying your brand's personality and offerings, without trying to force them to buy.
How Our Monthly SEO Packages Increase Leads and Sales
Develop Your SEO Strategy
Our SEO professionals work with you to better understand your unique business goals. We'll conduct a free website audit, identify your competition and target audience, and research to determine the best target keywords to grow your online traffic.
Once we've analyzed your website, our SEO experts will optimize the targeted keywords to rank your website higher on Google and other search engines. Since we've determined which areas need improvement, we'll know how much time and energy we'll need to dedicate to growing that specific aspect.
At Digital Logic, we optimize all SEO campaigns for search engines, while ensuring that we provide your website visitors with the best user experience possible.
Our content strategists produce consistent, high-quality content for our clients. We take specific keywords from our keyword research and create useful content that is sure to capture the attention of your target audience.
Our monthly SEO packages also include the use of advanced link building techniques. By doing this, we're able to take your website visitor from one page to the next seamlessly. This decreases your bounce rate and shows search engines, like Google, that your content is helpful to readers. In turn, this helps to increase your search rankings.
Belen Law Firm
$27K in Monthly Organic Traffic Value from SEO
CBS Collision
1,170% Increase in Organic Traffic
Shreveport Eye Specialists
993 Calls from Organic Search
The Plastic Surgery Center
88% Increase in YOY Conversions
Louisiana Crawfish
Increase in Organic Search Revenue Valued at $186,000
Types of Monthly SEO Packages
Wherever you are on your business journey, we have a monthly SEO package to help. The goal of our custom SEO packages is to address any issues you are experiencing with marketing your business. Whether your current website attracts the wrong customers (or none at all) or if your competition seems to take all of your leads by consistently outranking your business online, the SEO professionals at Digital Logic can help.
Each business has different needs and goals. Here are a few of the ways that we can customize your monthly SEO package to better suit the needs of your company.
This monthly SEO package is for local businesses who need to increase in-store foot traffic. Many law firms, medical providers, and auto repair shops fit into this category.
Our local SEO packages help to grow local businesses by optimizing local listings and targeting local keywords to reach the audience that's most likely to need your products or services.
Many of our local SEO services include technical SEO, content creation, keyword optimization, link building, on page SEO, off page SEO, optimizing your directory listings and Google Business profile, and more!
Here is more information on local SEO pricing. 
Our SEO packages have the ability to grow large companies at a massive scale. Many times, these businesses have the means and manpower to grow and scale, but they do not have the capability of handling the increased SEO requirements to accommodate for their business's continued expansion
This is why scalable SEO packages are so important. They allow the company to focus on business operations and outside expansion, while an SEO specialist (or specialists, depending on the scope of the SEO campaign) handles the search strategies with extreme ROI potential.
If your e-commerce website isn't ranking well on the search engine results pages, then your business isn't even close to meeting its potential. Studies show that 44% of consumers begin their online shopping on a search engine. In order for an online store to thrive, your website needs to consistently show up when a consumer searches for the products you offer.
For the best results, we recommend that e-commerce businesses invest in our PPC management services in tandem with our monthly SEO plan.
Our monthly SEO plans for online retailers focus mainly on link building and technical SEO practices that will promote better rankings in the search results.
Affordable SEO Packages for Small Businesses
We understand that not every business has enough extra cash flow to invest in SEO services. Our SEO agency started out as a small business, so we try to accommodate as many small businesses as we can.
Many small business owners believe that search engine optimization packages are frivolous or unnecessary. But, at some point, those same business owners hit a plateau in sales and realize the value of working with a professional SEO agency. If those same business owners had realized the value of SEO services from the beginning, their business would be in an exponentially better position. You live, and you learn.
Even if you don't have a ton of extra cash to invest in monthly SEO services, you'll see that the advantages of investing will quickly outweigh any concerns.
At Digital Logic, we tailor our small business or affordable SEO plans to ensure better customer acquisition and customer engagement.
What to Expect from Monthly SEO Services
Determining which SEO company is the best fit for your business may hinge on that company's monthly SEO packages. While it's obviously important to consider the cost of the SEO services, you also need to ensure that the SEO plan that you select includes at least the necessary, basic features.
The SEO services that you should expect from any basic SEO package include:
All SEO strategies should begin with an in-depth site SEO audit. If a SEO company provides you with specific monthly SEO pricing without first completing an SEO audit, run. There's absolutely no way that any dedicated project manager could give you a price without knowing where your business stands on major search engines and the amount of competitive keywords you'll need to rank for in order to be successful. The right SEO company will genuinely want to see you succeed.
The key to SEO success is your account manager's ability to find high-value keywords that offer a high probability of converting.
Most business owners of those looking to invest in a monthly SEO plan don't really understand the concept of ongoing keyword research. They believe that they know which words to rank for, and it's the project manager's job to make sure that their web page ranks for those targeted keywords.
It's easy for a lawyer to say "I want to rank for Phoenix DUI lawyer". Most SEO companies will build a landing page for "Phoenix DUI Lawyer", write some content, link the page internally, and pray for success. But, a dedicated account manager who's a pro at SEO campaigns will also scope out "hidden gem" keywords, keywords with high search volume and low competition, such as "Arizona DUI penalty chart" or "DUI expungement Arizona", write content about those keyword, and use those page to help support and build up the target keyword, "Phoenix DUI Lawyer". Ranking those pages is much easier than ranking pages with the competitive keywords. By linking the closely correlated pages together, we're able to establish that our client is the authority.
Your keywords mean nothing if they aren't included on your website. Professional content creation uses those high-value keywords to engage with your target audience. Creating content that ranks well on the search results while still entertaining your audience is both an art and a science.
An SEO expert can create SEO-friendly content that ties in with your overall SEO strategy, improves brand recognition, and creates an open dialogue between you and your target audience.
On page SEO is the process of using specific keywords and implementing them strategically on the website, such as in the headings, in the URL, as an image's alt text, in the meta tags and descriptions, etc.
On page SEO also includes technical SEO efforts. Technical SEO includes your link structure or URL structure, how your anchor texts are written, addressing broken links, FAQ and local business schema, as well as the user experience.
You can have the best content in the world, but if your on page SEO techniques aren't implemented correctly, your site may never rank well in the search results.
Off page SEO includes any work that's completed outside of your website. This can include directory listing optimization, social media marketing, press releases, and anything that helps your website secure earned traffic.
This SEO tactic helps to increase your site's online visibility in other places, such as social media platforms, which in turn, boosts your online credibility and increases your organic search traffic.
All monthly SEO services should include a monthly SEO report. This executive report is important because it lets you know how your SEO campaign is performing.
At Digital Logic, we pull our data from a variety of sources, including AhRefs, Google AdWords (if applicable), Google Search Console, and a few others.
While your monthly SEO services may vary from month-to-month, based on your current needs, you should always know exactly what your SEO budget is going towards each month.
All of Digital Logic's SEO Packages Include
Free strategy call or video chat about your business

Free website audit

Completely custom SEO strategy, based on your specific business needs

No long-term contracts

Strategic allocation of your monthly SEO budget across various online channels, including on-site SEO, content writing, link building, and more

Regular updates and discussion on how we're implementing your SEO budget

Transparent monthly billing and reporting on all KPIs
Search Engine Optimization Packages From Digital Logic
This SEO package is best for businesses:
in less competitive niches OR that operate in smaller markets

who's websites only need a small amount of SEO help

that would like to see a gentle increase in organic traffic

working with a smaller budget, who are interested in the long term benefits that professional SEO affords
This SEO package is best for businesses:
in moderately competitive industries and markets

that need a moderate amount of SEO help

who's website needs a moderate amount of cleanup

that would like to see a steady increase in organic traffic
This SEO package is best for businesses:
in competitive industries and larger markets

e-commerce brands

multi-location businesses

that need a full-service SEO team

that would like to see a drastic increase in organic traffic within the first few months