Google My Business or GMB, formerly known as Google Places for Business, offers the best opportunity for local businesses for appearing in the search results. There are several new features brought forth by the search engine giant to GMB that make it easier for businesses to increase their local search visibility.
Most Recent Google My Business Changes
Simple, easy, and cost-effective, here are the latest changes to Google My Business, which are significant for business owners and lawyers, along with some key takeaways:
Removal of Permanently Closed Listings from Local Finder on Google My Business
Over the past few months, there has been a visible lack of Permanently Closed listings in Google's Local Finder due to their redundancy. This lead to an adverse effect on the law practitioners' business. In essence, this means that while the professionals continue their practice, customers will not be able to locate them.  
The problem escalates further when rival businesses mark the competitors as "permanently closed." Google provides no notification for this action, and hence, when this happens, you're perpetually going to be in the dark!
Actionable tip: Conduct a manual search for practitioners on Google. Use Name + City to ensure that it isn't listed. Also, make it a habit to visit Google My Business dashboard daily and use a ranking tracker tool. The latter will send you alerts whenever there's a change in your listing.
Removal of Access to the Classic Version of Google Plus
Google came out with the new version of Google Plus back in 2015, but until a couple of months ago, they still kept the classic version accessible — and it was this version Google cached in their search results. While the classic version contained the NAP data, the new version did away with it.
Closing the door to the classic version also meant bidding adieu to finding duplicate listings and filtering out low-quality comments.
Actionable Tip:
Use your verified Google My Business to boost local SEO services. 
Platform to Review Edits to the Business Listings on Google Maps on Desktop
When the MapMaker was done away with, many people thought that reviewing the edits made to the business listing will become an option they can no longer explore. However, local SEO professionals have an alternative in the form of the Google Maps app.
This collided with the 'Check the Facts' feature on the Desktop for Local Guides.
While this is a watered-down editing and nothing as compared to MapMaker, it lets users approve or deny each other's edits to the business listings.
The feature has been rolled out to all Local Guides levels.
Actionable Tip: Because Google also lets others edit the details of your business, and are still working on sending notifications, you'll have to take some precautionary steps. This includes acting immediately once you get the email notification from them to accept any edit, which you don't remember making in the recent past.  
Bonus: Removal of Pending Edits for a Listing's Status from Showing up on the Google Maps app
Google also removes pending edits for the listings' status. This means that even if someone reports business as spam, there's nothing to worry about until the edit actually gets published.
Snack Pack Rolls Out to More Industries in the USA
Google's Snack Pack is the local layout and serves as the missing link to the business website or driving directions.  This means that the buttons will be replaced by an image now. Some of the industries that have this feature in the USA include pest control, jewelers, and sporting goods stores.
Actionable Tip: There's no single tip that can help you out with the snack pack update. Follow these pointers to get sorted:
Access to 18 Months of Data from Insights Inside the Google My Business Dashboard
Google added several insights to its dashboard. For businesses, this translates to untapped potential, especially when there are new clients and when they want to get a closer look at the statistics before working on improvement.
Actionable tip: You can compare yearly data from all your listings to get a better perspective. It is irrespective of the locations and accounts you manage. The data that you can avail will include total searches, discovery searches, total views, direct searches, Maps views, total actions, directions actions, website actions, phone call actions, etc.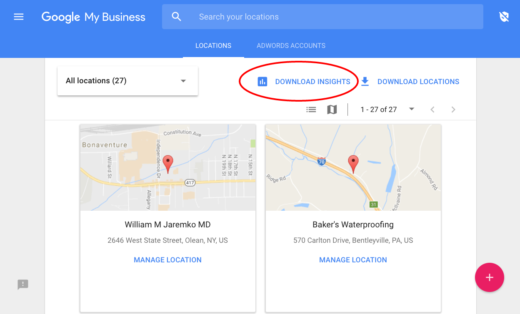 Local Pack Ads on Mobile
Google Ads has a new feature. It now shows local pack ads on mobile, above the regular 3-pack, as opposed to within it.
These ads will contain a note at the top citing that they are ads with the green Ads tag and contain 'Nearby Businesses' next to them. The ads will also be visible for branded keywords, and clicking on them will bring the customers to your Google business page.
Actionable tip for standing out in local searches: People will search for future references and may not want to visit your business at that point. Hence, you need to find out ways to make your page significant for them so that they're inclined to shortlist it.  
Google's Q&A Feature on Google Maps
Google also introduced a new feature on its Maps app for Android.
Known as 'Questions and Answers,' it has some interesting factors that can help your business when you update the app. Providing answers to the questions asked by the users in detail can leverage your business, and add to its authenticity and reputation, thereby bringing more leads. Just remember, no one-word answers or spammy answers should be provided. Offer genuine and descriptive answers, since 'upvoting' will make the popular answers visible.
Actionable Tip: If you hadn't been giving enough importance to Google Maps until now, this is a good time to do so and keep track of the questions submitted by your potential clients and also, to see their profiles and names. The caveat here is to use the Google Maps app by signing in from the same Google account used to manage the Google My Business listing.  
Google Posts on Google My Business Pages
If you're wondering what on earth Google Posts is, it's a new feature that allows you to publish your products, services as well as events directly in Google Search's Knowledge Graph and Maps.
When there are multiple posts, the newest ones will automatically feature first, while the older ones will get showcased in a carousel. Posting often is a good idea as these will stay live only for seven days, with the exception of events, which will stay live until they are over.
For more information on HOW to create a Google Business post, check out our blog post here!
Actionable Tip: The first 100 characters show up on the Knowledge Graph. Make them count without any cut-off sentences. If you want to use images, don't post anything smaller than 250×250. The ideal size, though, is 750×750 with center-weighted. Next, use UTM codes to track all the clicks.
Google My Business Launches Messaging
As a part of its revamp process, Google announced a Google Messaging feature for businesses that are on its GMB platform. This will let you directly communicate with all your customers in real time using text messages! All you need to do is log in to your GMB account and set the messaging up. By activating this feature, your customers will be able to view a message button on Google Search as well as the Maps panel for your business and use it to contact you.
Actionable tip: Use the feature to address customer queries even on busy days. Send them quick links to refer and provide a solution on the go. Keeping a phone dedicated to only these messages is a great option and so is installing Allo, an app for text messaging.
Google Adds Links for Appointments
Your customers will find it easier to book an appointment after its inclusion in the GMB dashboard. It will appear as a link when your GMB page appears in the local search results, provided you use online scheduling software. Since small businesses have to deal with several appointments, this feature will prove to be incredibly handy. The best part is that the URL goes live almost instantly!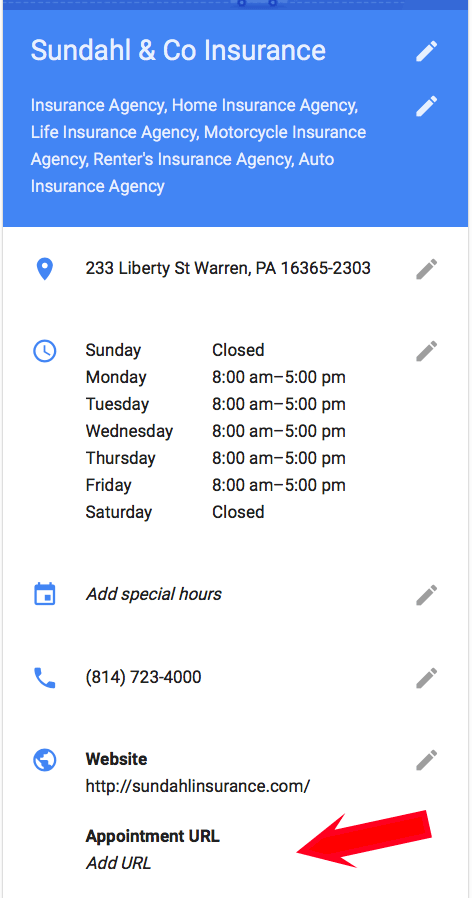 Actionable tip: Do check all the links to ensure that they all work properly, as Google can accept, including the invalid URLs.
Takeaways From Google Business Changes
These are our takeaways from Google My Business changes for every law firm and small business. We hope that by implementing these, your business will gain more traction. Let us know how it goes!  
Author Bio: Vivek Patel is a Local Search Specialist at E2M, a content marketing agency based in San Diego specializing in content strategy, creation, promotion, and SEO, for domestic and overseas clients. His expertise includes local search optimization, strategic planning for multi-location and link-building tactics. You can find him on Twitter: @vivekrpatel
Digital Logic is a Shreveport-based company that works with both local and national brands!