PPC Strategy for Healthcare Marketing
Healthcare patients now have more options than ever before. With so much information readily available online, many patients no longer feel as if they need to visit the nearest hospital or medical practice in order to seek medical answers.
We're not saying they're always, or even usually right, but at this point in time, it's hard to deny the facts. That's why it's so important to have a strategic, budgeted healthcare marketing plan to reach new and returning patients in your area.
Even if you're happy with your current patient volumes, take a second to consider all of the reasons why someone may decide to switch healthcare providers: changes in insurance, relocation, dissatisfaction with bedside manners or wait times, etc. You aren't guaranteed consistent patient volumes forever.
What are Healthcare PPC Services?
Healthcare marketing is a strategy for hospitals, medical facilities, doctors, healthcare networks, caregivers, healthcare providers and healthcare marketing executives. Because of rapid changes in the healthcare industry, your medical marketing strategy requires both focus and agility. 
Healthcare PPC is just one subset of the healthcare marketing services we offer here, at Digital Logic. 
Healthcare PPC is an advertising service that is implemented by search engines, such as Google, social media channels and other platforms.
Healthcare PPC or pay-per-click advertisements are paid advertisements that are highly targeted to appear first for a set of search queries. With healthcare PPC advertising, you can manage your budget and determine what you'd be willing to spend to keep your website visible at the top of the search results.
With healthcare PPC advertising, your return on investment is well defined and easy to read.
One unique aspect of PPC advertising is that you only have to pay when someone clicks on your ad.
PPC advertising for healthcare providers navigated the highly competitive field of healthcare advertising online. This model directs traffic to your website when a potential patient clicks on your ad.
Looking for hospital PPC, PPC for orthopedic surgeons, or dental PPC strategies, specifically? We can help there, too!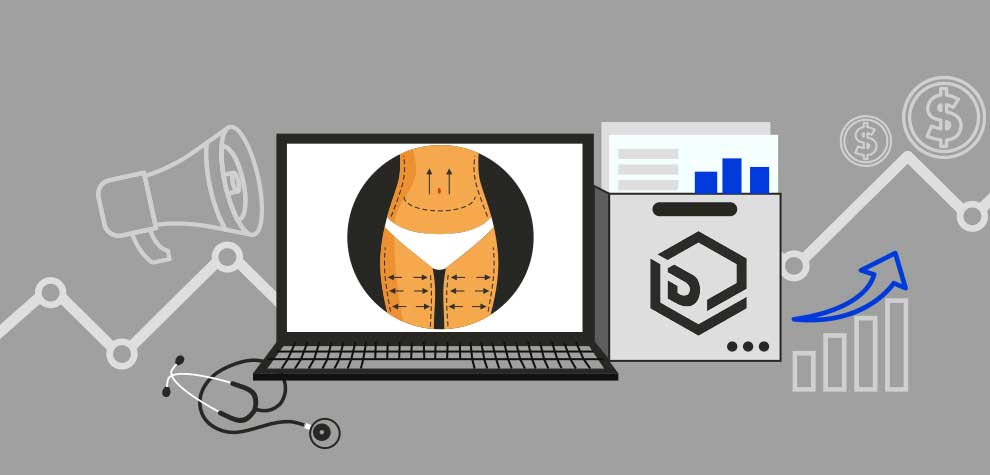 Plastic surgery marketing refers to the marketing strategies plastic and cosmetic surgery providers, and practices use to attract new patients and increase awareness of their
Read More »
Orthopedic marketing refers to the marketing strategies orthopedic surgeons and orthopedic providers, and practices use to attract new patients and increase awareness of their orthopedic
Read More »
Healthcare marketing strategy involves communicating health information using customer-centered and science-based strategies to promote healthcare practices. Digital marketing for the healthcare industry can be a
Read More »
Working with Digital Logic was the best marketing move I've ever made for my practice. They have helped me continually stay booked with the right kind of patients with their strategic approach to drive more traffic to our website.
Why Do You Need Healthcare PPC Advertising?
Healthcare paid advertising is essentially reaching a prequalified audience. You only pay when your ad is selected and clicked on by your target audience. We understand that this pitch sounds pretty straightforward and simple. However, the healthcare industry is one of the hardest segments for marketers to navigate. In fact, many online advertisers rely on experienced healthcare advertising agencies to contract work for hospital PPC services out to.
Despite the difficulty, when implemented correctly using various types of customer segments, the beauty of pay-per-click advertising for healthcare providers is that you are only paying for the actual result, or a click. You aren't paying for your ad when nobody sees or clicks on it. However, this system depends on professional help to avoid wasted budgets.
Let us help you maximize your PPC efforts with professional pay-per-click management services
How to Attract More Patients with Healthcare PPC
One of the fastest ways to attract new patients to a medical practice is through healthcare PPC advertising. These online paid ads show up at the top of the search results page and are the first results a prospective patient sees when he or she is looking up healthcare services online.
This is true regardless of what device the potential patient is searching from. PPC advertising and online paid search is so effective that if your campaign is correctly set up by a healthcare marketing expert, it can have your phone ringing in days.
There is little to no lead time for healthcare PPC when you work with an advertising agency experienced with medical marketing.
Traditional vs Healthcare PPC Campaigns
With traditional advertising, such as television, print or billboards, you pay for your ad to be seen by the masses. And, most of these people genuinely are not interested in your services until they need them.
As we've said, Google Ads PPC advertising for healthcare professionals is different. Because you only pay when someone clicks on your ad, you'll maximize the ROI of your online advertising efforts.
Healthcare PPC Management Tips
Here are a few healthcare PPC advertising tips to help your practice attract more patients:
Target the Right Keywords
Keywords are the foundation of your healthcare PPC campaigns. However, it's not just a matter of picking a few worlds and moving on. If you want to target the keyword "audiologist" but you only provide services to adults, you won't want to pay for traffic that is searching for "pediatric audiologist". Google allows you to specify which keywords and phrases you want to target, as well as which to exclude. This means that you're only paying for qualified leads.
Take Advantage of Negative Keywords
Negative keywords are words or keyword phrases that won't trigger an ad when it's searched for. The more negative keywords that you add early on, the less likely you are to waste your advertising budget on unqualified leads. This is why hiring an agency with experience in healthcare PPC is so important. We know which negative keywords to add early on, based on previous experiences.
Improve Your Quality Score
Google actually ranks your performance for each keyword you run ads for. You'll receive a quality score of 1-10 for each keyword. This is based on the quality of your landing page, paired with your Google ad. Having a high quality score indicated to Google that your ad and landing page are relevant to one another and useful to those who click on your ad.
Why does this matter?
Because, it affects your money. The most simplified formula for who "wins" each keyword bid is your quality score times your bid. This means that the better your quality score, the less potentially that you'll have to pay to outbid another competitor. For Google ads associated with low quality scores, you must bid higher than the average marketer to have your ad show.
Your quality score is that important.
To find your current quality scores, you can check your Google AdWords dashboard. If your scores aren't what you'd like them to be, you can increase your scores by optimizing each specific landing page, your PPC ad copy, and making sure that your keywords are relevant to both your ads and landing pages.
Optimize Your Landing Pages
Optimizing the landing pages on your healthcare website should be a must, anyways, considering how rapidly the medical industry changes. This is why we also recommend investing into healthcare SEO services, as well. 
But, optimizing the landing page specifically for the healthcare ad that you're running is beneficial for 2 reasons:
It will improve your quality score and potentially decrease your cost per click price.
You'll be able to convert more leads into sales by increasing your click-through-rates and decreasing your bounce rates.
What can you do to improve the quality of your landing pages? Start by making sure that your page has relevant content to the ad that's leading potential patients there, specifically. Look for search-friendly titles, good, informative descriptions and fast page load times.
Split-Test Often
One of the biggest perks of using healthcare paid search is the access to constant, real-time feedback on your ad performance. You should take advantage of this by running different sets of ad copy at the same time.
Doing this will allow you to see which ads perform best, which ads you should drop, and which ads you can modify to squeeze more juice out of.
Repeating this process over and over is the best way to raise your click-through-rates and lower your advertising cost.
Digital Logic: A Healthcare PPC Company
If you've invested in healthcare PPC services in the past and failed, we can almost guarantee the reason why. When you hire an outside agency who doesn't care about the client's best interest long term, the agency will set up ad groups that are designed to generate activity, not actual leads. This only gets you to spend as many advertising dollars as you're willing to throw at them. Yes, you may get tons of ad views and clicks, but these types of PPC services for the healthcare industry are lacking when it comes to the very thing that matters: getting new patients.
At Digital Logic, we strive to get you more patient calls from actual qualified potential patients instead of blowing through your PPC budget on unqualified terms.
Is your healthcare PPC advertising optimized to attract the highest number of qualified patients at the lowest cost? The PPC experts at Digital Logic can help you target the correct keywords, avoid wasting money, and optimize your ads and landing pages to get the best results possible.