SEO for Medical Spas
Like many other industries, the med spa industry is incredibly saturated and competitive. There are likely dozens of medical spas in the average city, and they all offer essentially the same services. This means as a med spa business owner, you need to find ways to stand out from the competition in order to drive more customers to your clinic. The best and most effective way to do this is through digital marketing efforts like Medspa SEO.
Medspa SEO is all about improving and optimizing medical spa websites in order to increase organic traffic and Google rankings. When executed correctly, medspa SEO strategies lead to a large influx of sales or clients.
Below, the SEO experts at Digital Logic explain our fool-proof med spa SEO strategy that's designed to help you achieve a booming business in as little as two years.
If you're still not convinced, check out our case studies and then, claim your free SEO audit.
Search Engine Optimization for Medical Spas
Search engine optimization (SEO) is the process of improving the content on medical spa websites in order to improve organic traffic and appear on the first page of local search engine results pages (SERPs).
In other words, a good search engine strategy will give medical spas far more visibility on Google search results and allow them to attract more website traffic. From here, the content portion of SEO for medical spas comes into play, providing the website visitor with all of the information he or she needs to convert into a paying client.
Why Does Your Business Need Medical Spa SEO?
Medical spa SEO services are the secret to success in the marketing world.
Why?
The term "medical spa" has an average monthly search volume of 31,000, according to a tool, called Ahrefs, that our SEO experts use.
This means that on a monthly basis, an average of 31,000 people type in search queries that include the word "medical spa" in Google or other search engines.
Imagine how many of those search queries are coming from your local area and how many new clients you could potentially get if you had more visibility on Google's search engine result pages. 
Here is the monthly search volume for specific medical spa services:
Laser Hair Removal

– 675,000

Botox

– 157,000

Microneedling

– 128,000

Microdermabrasion

– 83,000

Chemical Peel

– 67,000

Dermal Fillers

– 18,000
The list could go on for some time.
While this number of people search for those specific keywords, it's important to realize that just because you simply add all of those keywords to your web pages and blogs, this doesn't mean that searchers will end up on your website.
The plastic surgery and medical spa industries are fiercely competitive, so medspa owners should focus more on local search for medical spa services. Ranking for local searches alone will make a huge difference in the success of your business.
Bottom line: you need to rank for all of these keywords to achieve a booming medical spa business in your local area. Medical spa SEO services can help you do this.
The vast majority of medical spas that operate at a local level can greatly benefit from local SEO services.
If someone wants to invest in a medical spa service, they're going to search their local area for the best doctor or clinic.
For example, if your medical spa business is in Dallas, TX, a potential client is probably going to search "Dallas Medical Spa" or "Dallas Laser Hair Removal."
In order to be one of the first clinics to appear on the first local search engine results page, you need to have fully optimized content on your website that's going to rank for top keywords (such as the ones above). This is called local SEO. 
So in order to attract your potential medspa clients in your local area, you need to implement a good medical spa SEO strategy.
Local SEO includes keyword research for local terms and then optimizing your Google Business profile, local directories for medical spas, as well as your website content for those high-quality local keywords.
Lastly, SEO for medical spas is crucial for success because most consumers conduct research before investing in products or services, especially products and services that are expensive and can permanently alter their physical appearance.
There's a lot at stake for clients in the medical spa industry: money, health, and overall appearance. It's only natural to do some research on a specific procedure before swiping a credit card for Medspa services. 
So you want to be the number one resource for someone who is thinking about investing in medical spa services. This means you need to have plenty of well-written, informative, and optimized content on your website that will appear on someone's search engine results page when they Google: "What is Microdermabrasion?" for example.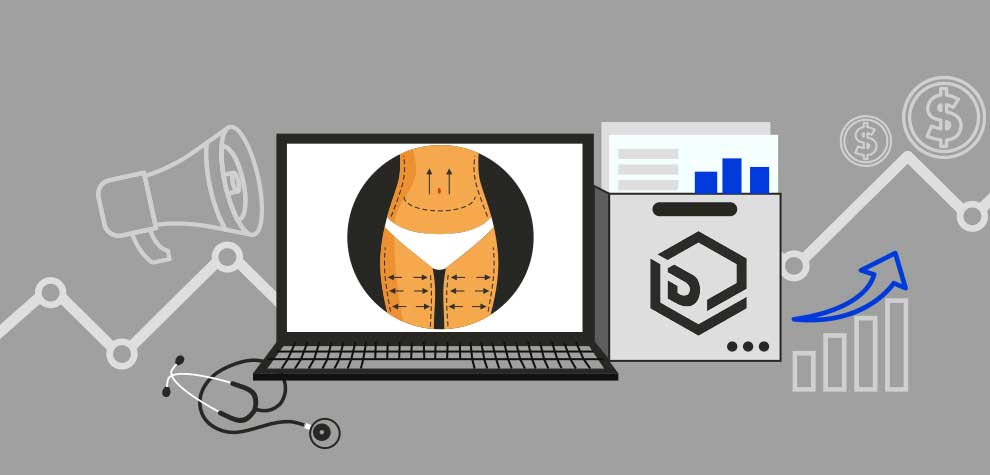 Plastic surgery marketing refers to the marketing strategies plastic and cosmetic surgery providers, and practices use to attract new patients and increase awareness of their
Read More »
Working with Digital Logic was the best marketing move I've ever made for my practice. They have helped me continually stay booked with the right kind of patients with their strategic approach to drive more traffic to our website.
Local SEO for Medical Spas
As explained previously, local search engine optimization (SEO) is the process of optimizing your content and your website in order to attract the target audience in your area. 
An important aspect of local SEO for med spas is creating a Google My Business (GMB) profile, which is basically a free business page for all local businesses.
These Google My Business profiles allow Google to understand your business and how it interacts with other businesses in your area. With a good Medspa SEO plan, your Google business profile will appear on the first page of local search results, as well as on Google Maps.
Your Google My Business profile should include all the important information about your med spa:
address,
hours, and
phone number
Additionally, your med spa should have a decent amount of Google reviews, which consumers can view through your Google business listing.
Having a large number of positive reviews on your GMB profile is beneficial for any business, but it's especially important for a medical spa company. This is because your target audience will probably scroll through your online reviews as part of their research before investing in cosmetic procedures.
You want to make sure that your Google reviews indicate how kind your staff is and how good your services are. These reviews could be the final push your potential clients need to complete the buyer's journey and invest in your services.
Want to learn more about our local SEO services for small businesses?
Rank Higher on Search Engines With MedSpa SEO Services
When it comes to med spa SEO, there is a method to the madness. It's not something that you can do successfully by yourself, especially if you're already a busy medical spa owner.
In order to get the most out of medical spa SEO, it's best to hire SEO experts from a professional digital marketing agency, like Digital Logic. Our SEO strategies have been helping our clients achieve booming businesses in as little as two years, for many years.
Below, we explain our approach to MedSpa SEO services.
Keyword Research
First thing's first is to know the keyword search trends for med spas.
Keyword research teaches you about your target audience and what they're looking for on search engines. Proper keyword research ensures that our marketing experts are tailoring your website content to meet the needs of your potential clients.
You want your med spa website to have all the answers and all the information that your target audience is looking for.
There are different types of target keywords that serve different purposes for Medspa SEO.
Informative Terms
First, there are informative keywords. These keywords are used by searchers when they're looking for important information.
Usually, searchers use informative keywords in the form of a question or a "how-to" statement.
For example, when seeking local medical spas, people search for some of the following terms:
What is Microblading?

How Much Does Lip Filler Cost?

How to Get Rid of Acne Scars

How to Get Rid of Stretch Marks
Those who have an informative search intent are looking for basic answers to their problems.
You can provide these basic answers in the form of a blog post or a title tag on a page. Online searchers are more likely to remember you and your medical spa website if you provide them with valuable information.
So they will be more likely to choose your medical spa services when they are ready to make a decision.
Commercial Terms
Googlers use commercial terms when they're searching for something they're thinking about spending money on.
For example, someone with commercial intent might Google: "Lip Filler" or "Forehead Botox."
Transactional Terms
Googlers use transactional terms when they're searching for something they want to spend money on now.
In the context of the medical spa industry, someone with transactional intent might Google: "Facials in Dallas" or "Microblading in Dallas."
Navigational Terms
Lastly, Googlers use navigational keywords when they're searching for a specific business or location.
In this case, someone with navigational search intent would Google the name of your medical spa company.
Let us know how we can help you with your legal advertising needs.
MedSpa Content Marketing Strategy
You need to use your newfound knowledge of keyword trends in all the content on your website in order to increase organic traffic. This is called content marketing.
Service Pages
The two main types of content that your website needs to have are web pages and blog posts.
Web pages need to be deep dives into each medical spa service you offer. They need to have searchable title tags and relevant keywords that will increase their rankings on Google.
Blog Posts
Blog posts should be based on "long-tail keywords," or keywords that are longer than 3 to 5 words. Oftentimes, long-tail keywords are a question.
Popular questions that people Google within the medical spa industry are excellent blog post ideas.
For example, blog posts based on these questions can lead to a big jump in organic traffic for medical spas:
What is a Lip Flip?
Can You Get Rid of Stretch Marks?
Can You Get Botox Under the Eyes?
What is Coolsculpting?
Off-Site Content
Off-site content marketing includes any form of media that links back to your med spa website. You may also hear this called off-page SEO.
This could include content on social media channels like Instagram, Facebook, Twitter, Youtube, or even TikTok. Off-site content also includes medical spa content on other businesses' websites that link back to you (this is also called external linking, which we will discuss later).
All off-page SEO is a crucial part of medical spa SEO because it allows your site to rank higher on Google search engine results.
On-Page SEO for Medical Spas
On-site SEO for med spas (also known as on-page SEO) refers to improvements made on your website. Not only does this involve content marketing, but structured markup, headings, meta descriptions, user experience, and SEO audits too.
Structured Markup
Structured markup, also known as Schema markup, is basically the language that search engines, like Google, use to understand website content. Google uses coding as its main language, and this coding allows Google to read and understand everything on your website.
Implementing structured markups on all of your pages and blogs can help boost your rankings in the search results because Google can understand them better.
Headings and HTML
Another important part of good on-page SEO is HTML title tags, which range from heading 1 (H1) to heading 6 (H6).
H1's are considered the most important heading in a piece of content. Usually, the H1 is the main title of a web page or blog post. 
HTML title tags are important because they tell Google how it should display a page or a blog on a website. Additionally, headings that include important keywords can increase the chances of your content appearing near the top of a search engine results page.
User Experience
Not only should your medical spa's website look good, but it should also be functional as well. Both looks and function are crucial for the overall user experience on a website. 
If you're missing the mark on looks or functionality or both, you'll essentially discourage visitors from staying on your site for as long as possible.
Functional aspects of a website that improve user experience are page loading speed and whether or not your website works on mobile devices.
Think about it – how many people open up their laptops or sit at their desktop computers just to Google a question? Not many. Why would they when they have a tiny computer in their pocket? Most people are likely going to see your website on their phones first. That means having a mobile-friendly website with a quick page load speed should be one of your top priorities.
Think of your website as an extension of yourself and your med spa business. If potential clients aren't impressed with your site, for all they know, they won't be impressed with you or your med spa services either.
The better user experience a potential client has on your website, the better experience they will have with you in general.
SEO Audit
The last important aspect of on-page SEO is running SEO audits on a regular basis.
At Digital Logic, this is one of the first steps our SEO experts take when optimizing a client's website.
Running an SEO audit on your website will highlight all of the current errors that are hindering your visibility on search engines like Google. This is a great way for our team to get started on creating your medical spa's SEO strategy.
of global traffic comes from Google search, Google Images, and Google Maps
Conversion Rate Optimization for MedSpas
Conversion rate optimization (CRO) is the process of increasing the number of website visitors that take some kind of action. The action could be calling your medical spa, emailing you, or engaging with an instant messaging feature on your website.
Conversion rate optimization ensures that more of your website visitors turn into paying clients.
Link Building for MedSpa Businesses
Link building involves both internal and external linking.
External Link Building
Meanwhile, external linking, also called backlinks, is when other websites link back to your website.
This is an incredibly effective form of off-page SEO.
The key is that your medspa needs to have external links from high-quality or authoritative sites in order to reap the most benefits. Having a large amount of high-quality external links will help Google determine how useful your site is. The more useful your site is for medical spa consumers, the higher your rankings will be on search engines.
Internal Link Building
Internal linking means that all pages and blogs on your medical spa website are linked to each other. Internal linking not only allows Google to find, index, and understand all the content on your site, but it also helps drive web traffic to all the content on your site.
Broken Link Building
Some of the medical spas that we create SEO strategies for have dozens of broken backlinks, which is incredibly harmful to Google rankings.
As part of every off-site SEO strategy, our team will ensure that you have high-quality, fully functional backlinks.
Creating Quality Assets
Not only is creating quality assets a major part of a good content marketing strategy, but it's also part of a good link-building strategy for medspas.
You want to make sure that all content you create – whether that's pages, blogs, social media posts, and before and after photos of your med spa services – are worth sharing.
This way, past and current clients will be willing to promote your content. This free promotion will lead to more clients and more organic traffic to the content they promote.
Guest Posting
Guest posting is also a crucial part of effective link-building and off-page SEO. Guest posting means that you (or your content marketing team) reach out to other businesses within the medical spa or plastic surgery industry and write content for them.
In this content, there will be a brief section about you, as the business owner, and your medical spa. The guest post will also link back to your site using an anchor text that you've provided from your previous keyword research.
In short, guest posting is a great source of external linking and promotion, both of which are important in an effective search engine optimization strategy.
Want to see more marketing techniques?
Work With a Top-Rated MedSpa SEO Agency
If you're looking for the best medical spa SEO strategy, but you don't know where to begin, you've come to the right place.
Digital Logic is a full-service SEO company based in Shreveport, Louisiana. Not only does our team specialize in search engine optimization, but we also specialize in PPC management for paid advertising services, web development, graphic design, social media marketing, and so much more.  For more information, contact one of our SEO experts today.