Digital Marketing for Plastic Surgeons
The plastic surgery industry has grown exponentially the past few years. Getting cosmetic procedures to enhance one's beauty is the new norm for us in the United States, and people have the option to choose from several different plastic surgery clinics in most areas. How well does your plastic surgery practice stand out amongst the competition?
Since you're searching ways to advertise your clinic, we're going to assume that business could be better.
You've come to a great place to get help. We'll start with the basics…
Plastic Surgery Advertising
With the innovations occurring in cosmetic surgery, now more than ever, people are taking notice and jumping to invest in body enhancements.
There's no shortage of patients out there, to put it bluntly. Plenty of people are lined up and looking for face lifts, lip injections, liposuction, mommy makeovers, rhinoplasties-the list goes on.
But, between the mass emergence of clients, paired with shows such as Nip/Tuck and Botched, there comes more competition than we've seen in the past.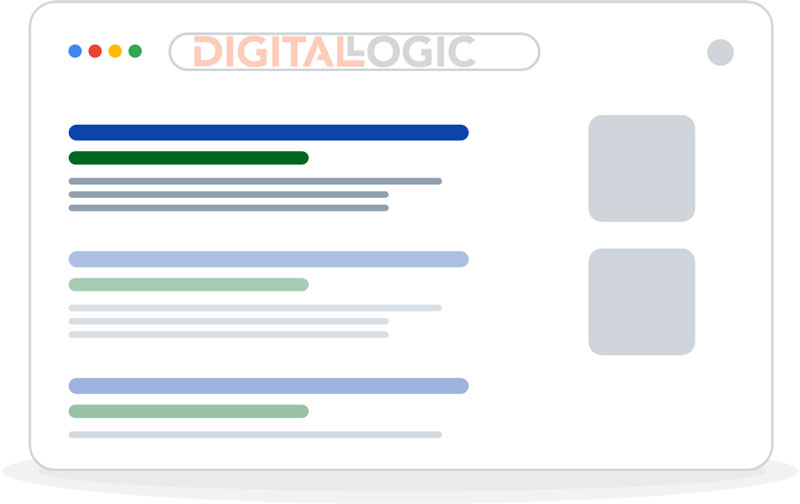 Working with Digital Logic was the best marketing move I've ever made for my practice. They have helped me continually stay booked with the right kind of patients with their strategic approach to drive more traffic to our website.
Digital Logic increased our inbound leads tremendously. Great team to work with without a doubt.
People go to search engines first to find out where the best plastic surgeons are in their area. This is why it's important to have a strong presence online. So that people who are actively looking for specific body enhancements can easily find you.
Regardless of your specialty, you can't assume that potential clients will just know that you're the best in that area. With plastic surgery being one of the fastest growing medical industries in America, if you don't have a strong brand presence online amongst your competition, you're likely to get left behind, regardless of your personal skill level.
The fastest way to gain exposure in your market and bring in new plastic surgery patients is by implementing a well thought out PPC strategy. If you don't know where to start, our professional plastic surgery PPC management team can help.
Our experienced PPC team knows how to target the right keywords that will attract new, qualified patients by using inticing ad copy that amplifies your plastic surgery marketing message. Then, we optimize your plastic surgery website's landing pages to ensure that we give those clicks the best shot at converting into dollars through booked appointments.
What is Plastic Surgery PPC?
Plastic surgery PPC advertising is an online marketing system that only charges you when someone clicks on your ad. After you've created your ad, there will be an online auction where you'll bid on specific search keywords.
If you've bid high enough, your ad will then show to potential patients who are searching the terms that you've preselected. Once someone clicks on your website link, you'll pay the predetermined fee. Because the ad for your plastic surgery website is at the top of the search results, potential patients will be more likely to see it.
Using Google Ads Effectively to Promote Your Plastic Surgery Clinic
Despite the emergence of other platforms, Google remains the most popular PPC tool amongst every industry.
To set up your first PPC advertising campaign, you'll first need to set up a Google Ads account. Once this task is completed, you'll need to complete the following steps:
The keywords you select will determine how much you should bid, as each specific keyword phrase has a price associated with it. Several methods for selecting the best keywords for your plastic surgery practice exist.
You can use online keyword search tools, tap into your own website's Google analytics account (if it has been correctly set up), or the easiest, more efficient way-to hire a professional plastic surgery marketing agency, like Digital Logic.
If you've selected the correct keywords, your plastic surgery site will appear when a prospective client searches those keywords. And, every time someone clicks on your ad, you'll pay the amount that specific auction costs.
Types of Plastic Surgery PPC Ads
Several types of PPC ads exist. These include:
Although Google remains the most popular search engine, other platforms, such as Bing, Yahoo, and Facebook all offer PPC advertising to plastic surgeons, as well. But, regardless of which type of PPC ad and which platform you select, your post will usually look similar to the organic listings. The only difference is that the platform will typically label the PPC post as "promoted" or "sponsored ad".
A relatively new feature Google has rolled out allows you to use PPC with Google Maps to reach potential local patients.
If you must choose between Google and Facebook Ads for your plastic surgery advertising campaigns, you'll want to know the difference between the two platforms.
Facebook Ads allows you to collect more information about your potential patients' online habits. However, for most plastic or cosmetic surgery practices, Google Ads allows you to reach more patients at a lower cost.
How Does PPC Advertising for Plastic Surgery Work?
As we mentioned previously, the basis of PPC advertising for plastic surgeons is an online auction. All major search engines, including Google, use an automatic process to determine how relevant your keywords are to your landing page. In terms of PPC cost, you will need to bid on keywords that are relevant to your plastic surgery practice.
How you go about this will depend on if you're running a private practice, or if you are running ads as a subsector of a hospital PPC advertising campaign. 
The higher your bid, the more chances your ad will appear in the search engine results.
But, if you're using Google as the platform for your online marketing efforts, your bid isn't the only factor that influences how your search ad campaign will perform. Google also takes your quality score and ad extensions into account.
Set your goal. Do you want more calls from interested patients in your area or more walk-ins? Or, should your main focus be to attract potential clients from other locations?
Choose the location. If your plastic surgery clinic primarily focused on local patients, or do you offer services that patients would travel across state lines for?
Design the ad(s). In three short sentences, you'll need to describe your plastic surgery practice. What do you want people to know? For some types of ad campaigns, you can include images to increase your ad's attractiveness to those searching.
Set your budget cap. You must decide how much you're willing to pay for each PPC campaign each month. Google makes this step easy by showing the estimated clickthrough numbers for your chosen budget. You'll want to check back at the end of the month to see how the estimates compare to the actual numbers. In some cases, Google's estimates are spot-on, while in others, the estimates are off quite a bit.

This is where hiring someone with experience specifically with plastic surgery advertising campaigns can be of great value to your practice. We already know which keywords bring in the most "bang for your buck", which keywords to avoid because of low conversion value, and which areas Google tends to skew the estimates.

Choose the keywords. By using one of the methods previously mentioned, you'll bid on the keywords that will help your plastic surgery practice the most.
Go live. Once you've completed all of the steps and double checked your work, you're ready to go live. Your ads will start appearing on Google search, Google Maps, and other affiliate sites. When a potential patient clicks on your ad, they're directed to the landing page you've selected, or to directions via Maps (whichever you've selected), you'll pay the preselected bid.
Plastic Surgery Advertising Campaigns
You can choose to set up a Google Ad campaign to market your plastic surgery practice. This is a little more complicated, but it allows you to manage multiple keywords, ad groups, and ads. In order to set up a Google Ad campaign, you must first select the campaign type.
The Google Ad campaign choices include:
App: app promotions across a variety of channels
Discovery: post ads on user's online feeds
Display: picture-based ads on relevant websites
Local: uses location to advertise across many channels
Search: text-based ads that show in Google's search results pages
Shopping: ads for products, specifically, on Google's shopping sections
Smart: simple, straightforward campaign
Video: video ads shown on YouTube
Most plastic surgery practices will want to choose search, discovery, display, or local campaigns-or, a combination of these.
Once you select the campaign type for your plastic surgery advertising campaign, you will need to create one or more Ad Groups. Each Ad Group can contain multiple ads. You can choose to designate one or more keywords to each Ad Group. This will then apply to all of the ads in this group.
Now, you'll need to design your ads. Depending on what type of campaign you selected, you'll either need images or text.
When you're choosing the keywords for your plastic surgery advertising campaign, Google will ask what kind of match you prefer. The 4 choices include:
Each match type determines how broad or narrow the search terms will be. If you choose an exact match for "Mommy Makeover Shreveport", your ad will only appear when a potential patient uses that exact term. This will not include the exact term spelled incorrectly (which happens more than you'd imagine).
However, selecting broader searches can also result in your ad showing for irrelevant searches. To combat this, we recommend selecting negative keywords that you want your ad to show for. A few common negatives include: lawsuit, botched, statistics, etc.
PRO TIP: Another reason to hire a marketing agency that specializes in marketing for plastic surgeons: we've already got a hefty list of keyword negatives to apply to your campaign. We've run these ads for years, and we've seen all sorts of crazy queries that don't result in patients walking through your doors. Each negative keyword we add to your campaign potentially saves you from a "bad click". And, for every "bad click" you avoid, you save the dollar amount associated with that click. These alone can add up quickly, especially for larger budgets.
Now, you'll need to set the region for your ad campaign. Some plastic surgeons want to only target their local area, while others want to expand to attract patients from other cities or even states. To squeeze the most out of your plastic surgery ppc marketing budget, we suggest narrowing it down to a few select zip codes or depending on your state, within state lines.
The final step in setting up your Ad Campaign is selecting your landing page. The landing page is the page that the potential client will "land on" after clicking on your ad. This will be the first impression of your website, not the homepage. Unless, of course, you've selected your home page, which we rarely recommend.
If you've tailored your landing page correctly, it can convert that prospective patient into a paying one.
You'll want to choose the landing page based on the ad. If someone searches for "Mommy Makeover Shreveport," have the ad go to your mommy makeover service page. For a generic, "Cosmetic Surgery Shreveport," consider using your Contact or About Us page.
Your Plastic Surgery Website and PPC
In order to be successful in online advertising for your plastic surgery practice, your website must be a place of recourse and information. It must make your audience feels serene and confident in your abilities, not feel like they're reading a sales pitch.
If you have 5 star reviews or testimonials, you want to be able to showcase those. Any BBB certificates of excellence, biography, education, and how long you've been in business or practicing all will help put potential patients at ease.
Also, in order to keep your audience from leaving your page quickly, you'll want to ensure that your pages have a good load speed time. After the first three seconds to load, viewers begin to leave, and quickly! Making sure that your pages load quickly will also help increase you Google rankings and give a better user experience throughout the site.
Another way to help your visitors feel confident is to make sure that your website is secure. This means that in front of your URL, you'll see https instead of http. Google gives preference to these sites, as well.
Choosing Digital Logic as a plastic surgery PPC marketing partner means that we handle the hard parts for you. As we create or recreate your plastic surgery website, we'll introduce you to your project manager, who will walk you through every step of the way.
And, together, we'll help bring your vision to life. After your site is approved by you, we'll move forward with optimizing for your PPC campaign!
SEO or PPC for Plastic Surgeon Advertising?
Which should you choose?
SEO or PPC to promote your plastic surgery practice online? We're asked this frequently when trying to allocate budgets for online advertising. Although SEO and PPC both fall under the online marketing umbrella, they both serve different purposes.
SEO is a technique that gets your plastic surgery website organic traffic by using keywords and backlinking.
On the other hand, PPC is a paid service in which you pay for clicks. You don't have to select one or the other, and we find that plastic surgery marketing campaigns do better when you employ both of these tactics to drive traffic to your website. Most plastic surgeons use SEO techniques but also invest in PPC advertising to ensure they're getting as many visits to their website as possible.
Reach More Patients With Digital Logic
From local service ads to remarketing, several different ways to use PPC to boost your practice's traffic exist. Google Ads is still one of the most effective PPC techniques to this day. At Digital Logic, we've helped many plastic surgeons, with different strategies and budgets, grow their plastic surgery practices.
Although PPC advertising for plastic surgery may seem easy on paper, this specific type of marketing is intricate, requiring special planning and experience. If you're not using a plastic surgery marketing company with expertise, you may be burning your online advertising budget without getting results.
PPC can offer a host of benefits, including increasing brand recognition and visibility. Even when potential patients don't click on your ad, they'll see it. This is just another way to expose your plastic surgery practice to those looking for options.
At Digital Logic, we clarify both your long and short term marketing goals. We, then, map them out to create a package that will bring you the results you're looking for. We're transparent in all of our billing processes, regardless if you have a small or large practice, are looking to grow your existing practice or are just starting out!