Healthcare Website Design Services
As the world becomes more digital, both hospitals and healthcare centers become more reliant on their websites for business. Websites for healthcare organizations are crucial for serving patients and inspiring supporters, as they are often a primary source for communicating information.
If the medical industry needed the extra push to get its online presence in order, the onset of COVID should have done the trick. Non-essential clinic visits, during this time, are suspended for weeks or months in some jurisdictions. Now, more than ever, healthcare marketing professionals should be focusing on creating a professional, user-friendly website experience. 
In an age where everyone uses the internet for everyday needs, only 30% of consumers use patient portals. 
This indicates to us that many healthcare websites fail to deliver a user-friendly experience.
Most medical websites only offer basic information, with little to no thought dedicated to the actual patient journey. 
At Digital Logic, we believe having a user-friendly healthcare or hospital website design is essential to long-term success!
Why is Healthcare Website Design Important?
If you've ever purchased anything online, take yourself out of your "healthcare professional" shoes and put yourself into the shoes of a standard consumer, and you'll see that this is rhetorical.
As a consumer, you can almost immediately feel if the website engages you to interact and purchase. It's no different in the medical industry. The way you design your website determines if visitors want to spend money at your business.
Healthcare web design is important for 3 main reasons:
It gives an impression: Your healthcare website is the first impression your visitors will have of your healthcare organization, so you really want to nail the aesthetics and portray an image of confidence and professionalism.
It increases your organic traffic: Having a quality user experience will also help you rank higher with Google, as they do put a heavy emphasis on how long visitors stay on your site.
It helps make you money: Studies show that improving the user interface of your healthcare website can increase conversions by 200%, and improving user experience can improve conversions by up to 400%. 
While the value of healthcare web design is beyond a doubt, the question of how to ensure your healthcare website falls within the user's standards and also converts, still stands. We're here to help!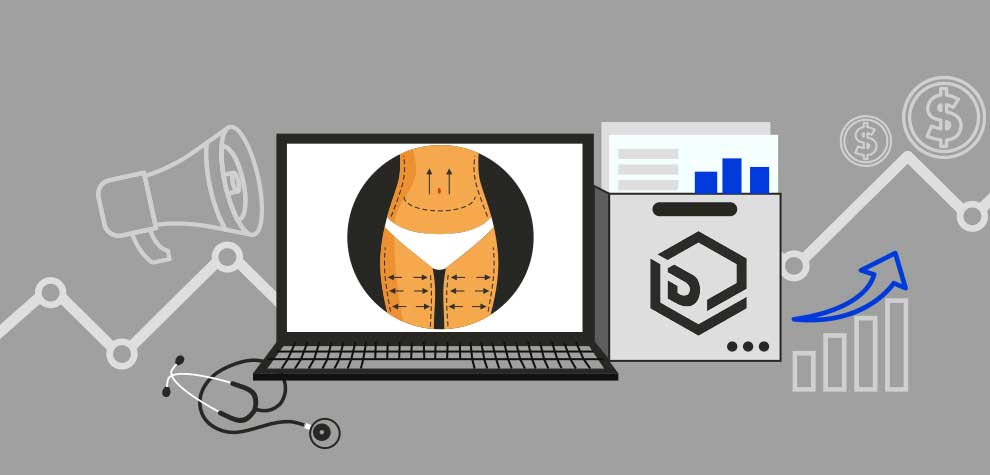 Plastic surgery marketing refers to the marketing strategies plastic and cosmetic surgery providers, and practices use to attract new patients and increase awareness of their
Read More »
Orthopedic marketing refers to the marketing strategies orthopedic surgeons and orthopedic providers, and practices use to attract new patients and increase awareness of their orthopedic
Read More »
Healthcare marketing strategy involves communicating health information using customer-centered and science-based strategies to promote healthcare practices. Digital marketing for the healthcare industry can be a
Read More »
Working with Digital Logic was the best marketing move I've ever made for my practice. They have helped me continually stay booked with the right kind of patients with their strategic approach to drive more traffic to our website.
Let us help you get more patients with healthcare website design.
What Makes Good Healthcare Websites?
Medical and healthcare websites should have a modern, responsive design that offers a user-centered experience.
By offering a patient-first experience, you're more likely to turn online visitors into one-time patients and one-time patients into loyal, lifetime patients. 
By offering a well-designed healthcare website, you're going to have more educated patients, on average. This helps free up your staff to focus on high-value patient interactions in the moments that matter most.
What Medical Practitioners Want vs What Patients Want
Even though this sounds relatively straight-forward, there's still a disconnect between what healthcare organizations want in their healthcare website design strategy and what patients want to see when they search.
Many healthcare providers still believe they are the patient's only option for healthcare. However, patients can and will use the internet to answer many of their medical questions, as opposed to visiting an educated medical professional. As a healthcare professional, understanding this will help to close that disconnect that we mentioned previously. Setting realistic expectations is crucial for healthcare web design, as you want to design for the patient's interest, not for the healthcare provider's.
The point of professional healthcare website design is not to replace the specific functionality of a patient portal but to create a seamless, intentional experience that bridges the gap between patient and healthcare providers. You want to build a digital experience that translates from online to the in-person experience you've already created at your facility.
For this reason, we really recommend investing in general healthcare or specific hospital marketing services.
Here are a few specifics that make a healthcare website stand out:
Above the Fold Content
When a patient or potential patient visits your healthcare website, you want to make sure that access to all of the important information and CTAs loads at the top of the page, or what marketers call "above the fold". This should include current ER wait times, if available, online appointment request form, and a telehealth option, at the very least. 
The more content-rich your website is, the more critical it is to have easy-to-understand navigation above the fold. 
Experienced web designers are able to arrange important information in the upper menu and sidebar, so that it doesn't overwhelm the visitor.
Relieve Patient Stress
A visit to the doctor leads to unwanted stress. It's that simple. Unless you're a plastic surgeon or the like, nobody really wants to see you, let's be real. To combat stress, you can use your website to put your patients' mind at ease by introducing your practitioners on the website. 
Having a dedicated page with an education summary, photo, and warm details, such as hobbies or family ties, will let your clients know the healthcare professionals better, making the initial appointment less stressful. 
Comfortable Colors
You want your website to have a comfortable color scheme. The overall look, including the color choice, of your website directly impacts how patients and prospective patients view your brand. 
For example, white evokes feelings associated with being clean, safe and professional. Because your main goal is to ensure patients feel safe with your brand, you will notice that many of the better healthcare websites are designed with lots of white space. 
Other colors you can use include lighter shades of blue and green. Blue evokes feelings of calmness, serenity and tranquility, while green evokes emotions of growth, safety and excitement.
So, the best practice is to use white or comfortable colors across your healthcare website and place more intense colors around your calls to action.
Add Human Elements
Advancements in online communication have made it possible to complete most interactions online. However, many patients still miss the personalization of live interactions. It's important to make sure your patients and prospective patients don't feel like a number.
As a healthcare provider, it's extremely important to make sure that your website has a personal feel.
One of the easiest ways to make your healthcare website look "more human" is to add a real image of a patient or medical professional on the homepage. 
Actually, research shows that pictures of people can drastically increase user engagement, and who doesn't want that?
We recommend using a real photo of an employee with his or her name or a photo showing a real patient and staff interaction, as original images generate up to 35% more conversions than stock photos on healthcare websites.
You will want these images to be at the top of your most important pages, as many of your visitors will never scroll to the bottom of the page. 
User Experience
User experience is a set of practices that prioritizes user's needs and overall experience while on your healthcare website. It considers both the user's end goals and the context of these goals-is the user on the go, tired, excited, etc. 
For example: while the standard patient portal could deliver test results through a text notification, delivering a positive result for a scary condition would be detrimental to the patient's user experience. 
In order to provide a successful user experience, you must provide a user-friendly interface that consistently maintains awareness of the user's point of view. While this is a challenging task for the healthcare industry, it isn't impossible. And, those who have opted for a modern, user-friendly healthcare website design have seen better results than those who haven't.
Healthcare Website Design Necessities for Patients
So, what do potential patients want to see when they visit your website?
Healthcare website visitors, meaning patients, potential patients and their families, typically rate experiences based off of some or all of the following:
Ability to quickly and easily finish a specific task on the website
Website functionality: appointment scheduling, location information, physician lookup, etc.
Option to view health information, test results, and billing information
Page load speed
Option to contact customer support
Overall tone of the content and images
We recommend that you look at your current healthcare website and ask yourself the following questions:
"Can users accomplish common goals on my website?"
"Does my site provide the best experience possible?"
If you answered, "no" to either question, you're potentially losing new patients and inviting your current patients to go elsewhere, where the options for standard tasks are available online. 
What are Patients Looking For?
Obviously, no one sets out to deliver a bad user experience on their website. Still, most healthcare organizations vastly overestimate their ability to understand what patients experience and are wanting to accomplish. 
Having the correct information on your site may be a good start, but now, patients require something a bit more personal. 
Personal Healthcare Website Design
Four ways you can help facilitate have a more "personal" healthcare website include:
Taking into account the emotional state of your patients when drafting content, especially for stressful health conditions.
Ensuring that your website is still functional for users who are visually or cognitively impaired or have low dexterity.
Keeping the family in mind. One's family will often play a significant role in healthcare decisions, especially in pediatrics. If you design a system that allows caregivers to communicate with healthcare providers, this can help streamline care and lower frustration.
Making it easy to learn. Patients want information available at their fingertips. They want to see a site that lets them navigate without any confusion. They don't want to shuffle through healthcare jargon. We understand that this is easier said than done. Especially in complex healthcare environments where internal politics and regulatory compliance have significant influence over public image.
Healthcare and medical organizations must begin by really understanding what patients want and need. This requires setting aside expertise for a moment to develop a true empathy for patient experience.
If you aren't already investing in healthcare or hospital SEO services, look into that, as well. You'll probably learn a thing or two about your patients and potential clients!
If you plan to build the website in-house, you'll want to start by researching and understanding the patient journey. The more information you have on patients, families, perceptions of your facility, and motivations the closer you'll be to reaching a good user experience and healthcare website design strategy that meets your goals while successfully meeting your visitors' needs, as well. 
Healthcare Industry Specific Website Design Services
For healthcare professionals operating in niche sectors of the healthcare industry, we expound upon this topic further on the following pages:
Digital Logic: A Healthcare Website Design Agency
So, how do you know if your healthcare website needs to be updated?
Studies show that most healthcare organizations redesign their sites every 3-4 years. However, studies also show that 81% of consumers are unsatisfied with their healthcare experience. 
Although these two numbers aren't directly related, who's to say that updating your healthcare website more often wouldn't help decrease that 81%? It certainly wouldn't hurt.
From what we've experienced, in years past, the only events that push healthcare providers to update their website is one of two things: an acquisition or patient number drop-offs. We assume that most healthcare providers are comfortable with their numbers and don't care much about growing the business. But, with how fast tele-health is growing, we'd be willing to bet that this mindset will soon be a thing of the past. The medical industry will start racing to improve its online presence, just like almost every other industry has been doing for the past decade. 
So, if you're reading this before your numbers have started to drop, good for you! As a healthcare professional, you understand that it's much easier to address issues before there's a problem.
And, if you've waited until there's an issue, that's not a problem, either. You'll just need to be more aggressive with your marketing efforts.
At Digital Logic, we understand that you're busy. Time is valuable, and we don't like to waste it. We offer free site audits and consultations, and we're respectful of your time!